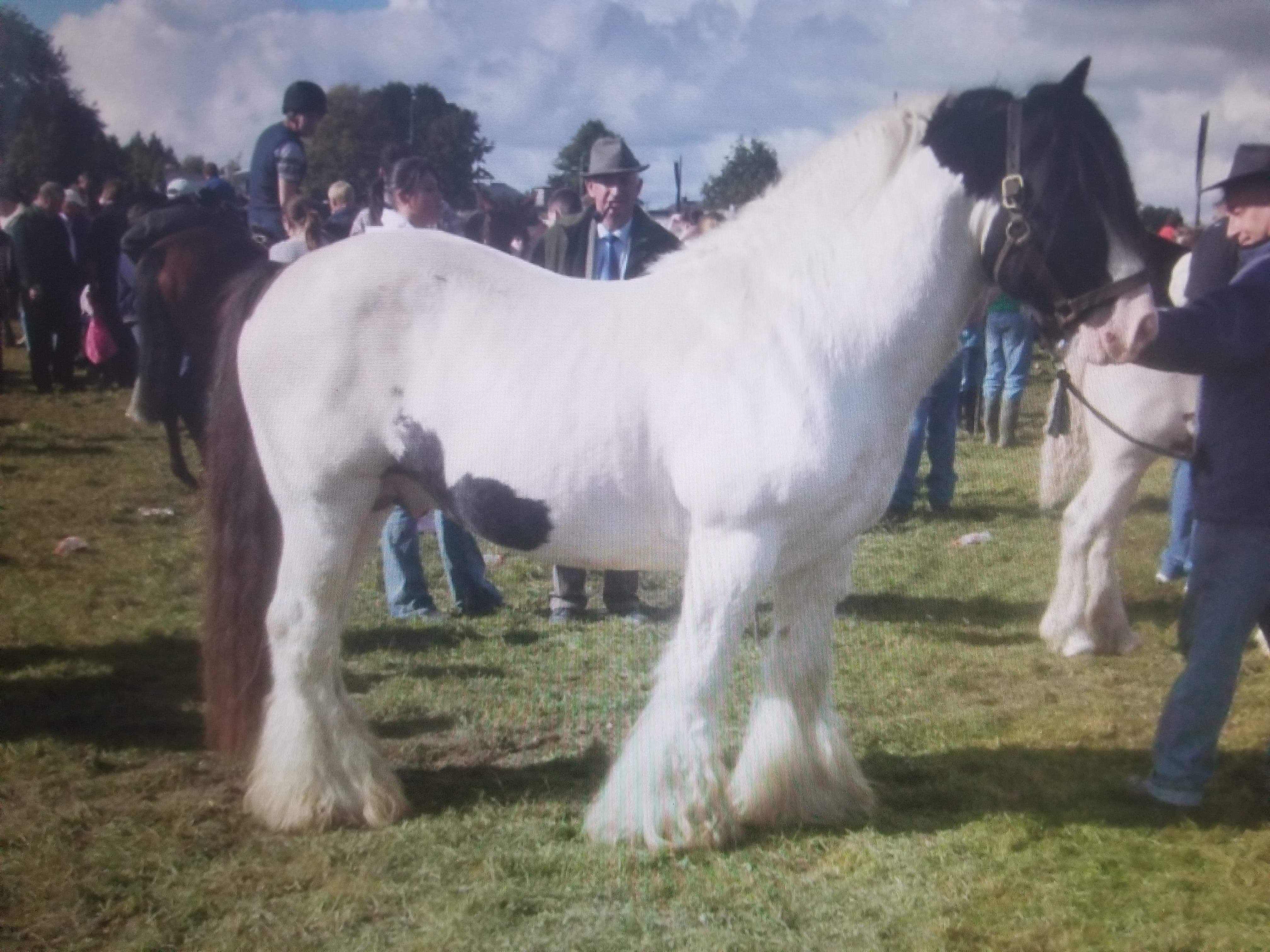 Horses Galore
One would think that the greatest struggle for a horse lover would be, to be surrounded by horses, horses they couldn't take home. There was an incredibly nice stallion that caught our attention. We had to vacate the area before we did something foolish. Finally dragging ourselves away from the hundreds of horses, ponies and donkeys that sorely tempted us, the girlchild and I made our way out of the valley, back up to the road. There was a midway visible and as we were hungry, we thought we'd find something to eat and look around a bit more. It seemed like a straightforward plan, one without too many things that could possibly have us deviate from our goal. That is, until we entered the midway. But here I go again, getting ahead of myself. First we had to get to the midway.
Blocking the way, were two mounted officers. Their horses were definitely Irish Draughts in all their magnificent glory, and of course, we wished we could take them home, too. They were posted to prevent people from riding or taking horses into the middle of the village and onto the midway, which made sense. I'm sure that would've happened, if they hadn't been posted. We chatted with one of the officers for a few minutes. His partner had left, and the big gelding was very upset with being left on his own. As the officer said, he was being a sissy and wanted to go with his mate, not hang about on his own. The great horse didn't do anything wrong, all he did was cry. He had the tiniest, most pitiful whinny. You could almost hear him calling out 'come back. Don't leave me here by myself. Come back.' It was rather adorable, especially as it was coming from such a big horse.
Leaving them, we headed towards the midway only to be stopped dead in our tracks before we got too far in. Now, we'd been to many fairs and midways over the years, but this one had something rather special. Something we'd never seen or experienced before, auctions. There were trailers that opened up to display all kinds of horse equipment, and these items were being auctioned off. If it had been a struggle to keep from showing too much interest in the horses that were for sale, it was even more difficult now. There were bridles, harnesses of all sorts, what we call horse blankets but many parts of the world call rugs, as well as so much more. There we were, plenty of pennies in our pockets, yet no way to get the equipment home. We weren't prepared to tote a bunch of tack around, especially bulky harness and winter blankets.
So, we stood there in utter agony while all kinds of tack we surely would've loved to buy, went for far less than at home. Some of the harnesses came in their own, special carrying case. There was harness of all sizes and styles, and we wanted all of it. Still, we kept our hands in our pockets. It was impossible to drag a bunch of tack around with us, and we weren't headed for the airport for a while yet. The timing was simply off. We would simply have to stand there and wish, yearn for and drool over, what we couldn't have. Then and there, we vowed to come back someday, with pennies in our pockets and the plan to buy what we wanted. Well, as far as tack was concerned, as buying a horse and bringing it home with us, would still be a very expensive venture indeed. Some things are meant to stay as dreams, yet others, like buying tack, could certainly be realized.
Eventually, we had to leave the overload of sights and sounds behind. We caught the last bus to Loughrea. As we entered the village, I noticed a little sign in a window … vacancy. Oh my, there was a vacancy. As nice as the room in the overflow house was, it didn't come with breakfast, and breakfast is an important meal, some say the most important. If the bed and breakfast had a room for the same price as the hotel, with breakfast included, it was where we needed to be. Now, this wasn't a bed and breakfast per say, more of a home with an extra room the homeowners decided to make a bit of money with at a time when they knew it was in demand. The long and short of it is this, we collected our bags from the hotel and took the room with the promise of breakfast.
Run by an elderly couple, we liked that it was quiet, clean and the price gave us a bit of a savings as well. Of course, there was breakfast in the morning, which was the added enticement. There was a lovely, little brook that flowed up to, then under the old house, much like we'd seen many places before. This time, our curiosity was sated, as we had always wondered if the homes could take advantage of the water source, or not. As it turned out, they can. There was a trap door in the kitchen floor. They opened it to show us, and lo and behold, there was the stream, sparkling and gurgling as it flowed along. Apparently, the man of the house would often sit there, line in the water, and fish from the comfort of his home. If he wanted to experience the great out of doors, he sat on the back stoop and did the same. Pretty cool convenience, if you ask me.
We had a great sleep full of painted ponies, a delicious breakfast along with great company the next morning, and headed out directly afterwards. Who knew what adventures lay before us? All we knew was that, we were ready to meet them.