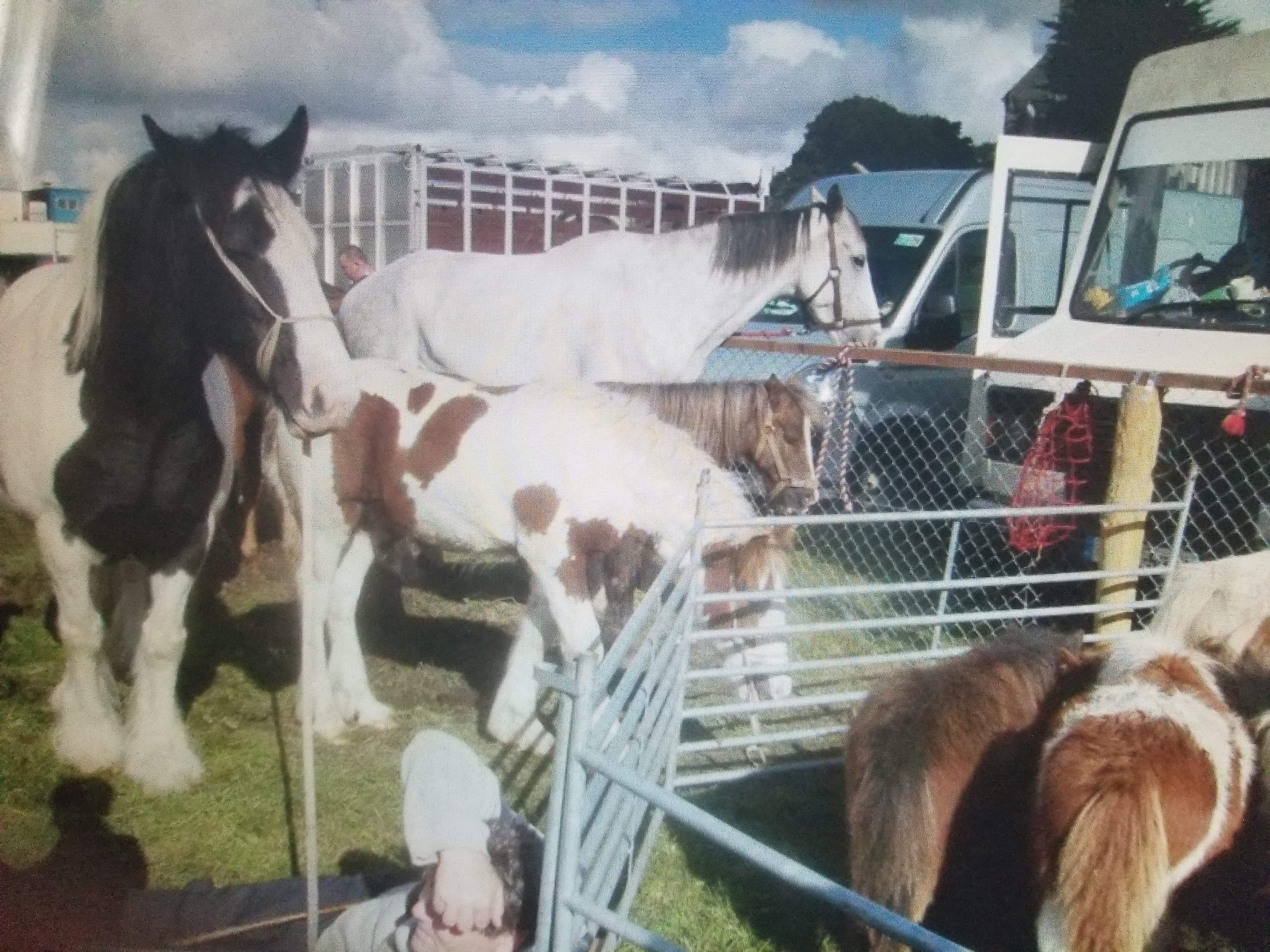 Ballinasloe Horse Fair
Up bright and early the next morning, we were eager to catch the bus to Ballinasloe and the horse fair. We left our bags behind with the woman at the desk of the hotel, as we certainly didn't want to drag them around with us, and were free to enjoy and experience, without the extra weight to tote around. We had no idea what we were about to see, but got an inkling as we came into town. There before us was a traveller boy on his horse, trotting right down the middle of the lane. There were horse boxes parked everywhere, some on the sidewalks, and there were people leading their horses down the sidewalk as well. There were even several donkeys tied to a stop sign! It was a mass of humanity and equines alike, a mass of organized confusion.
Imagine wall to wall horses, horses everywhere, absolutely everywhere, on the sidewalks, travelling down the main street of Ballinasloe. When we moved towards where all the action was a valley packed with horses, until barely a patch of grass showed. It was a bewildering confusion of people and horseflesh, unlike anything we'd ever seen. As we reached the centre of the village, we were astounded to see hundreds upon hundreds of horses, mostly contained within the bowl of a huge shallow valley. For lovers of horses of all kinds, it was like landing in a plethora of equine perfection. There were horses of all kinds, every shape, size, gender and of course, colour … so many colours, anything imaginable was there. Big horses, little horses, ponies, foals of all types, donkeys, so, so many donkeys, there were equines absolutely everywhere. It was as if we'd been dropped into every little girl's dream, if a little girl dreamt of being surrounded by more horses than she could count.
We stood and soaked it in for a few moments, simply standing there, gazing upon the huge hollow of horses and humanity, taking it all in. Both sweetpea and I had been to some large horse shows and fairs, but nothing compared to what we were now witness to. We simply wandered for a while, admiring and wishing we could take horses home. There were so many beautiful horses, so many adorable ponies and donkeys, and we had to keep our hands in our pockets. I so wanted to open my big mouth a few times, especially when we saw a horse wearing a western saddle. It wasn't that it was wearing a western saddle, just that it was completely wrong. It was on way too tight, snugged up as if it was an English saddle, and no thick saddle pad underneath either. Here and there, a red ribbon could be seen in a tail, the universal warning of a horse that kicks. We sat in the stands and watched a horse being worked in a round pen. The best we could figure was that it was a sales ring, and horses were brought into it to strut their stuff. This for me was pure torture. There's a fine art to working a horse on a lunge line. It's all about direction, instruction and body language. Get ahead of the horse and you're telling it to turn back, stop or slow down. Too far behind and you're telling it to go faster. Then there's the business of the line. The poor horse we were watching was being pulled this way and that, all the while it was expected to go over a few jumps. With a person throwing it off balance, because they were pulling on the line attached to the horse's head, it couldn't collect itself and perform. It was in a pen, for goodness sakes. It should've been worked loose.
From there, we worked our way through the crowds and horses back up towards the road. There was so much to see, and only one day to see it in. We had to get to it. Sadly, we were there on the last day. It runs for a whole week with all kinds of competitions to watch, including races. It seemed to us that most people were there to horse trade. In fact, Arnie the grey gelding I'd ridden in Carrowmore, had come from this very fair the year before. We didn't see too many woebegone horses in poor shape this time, yet from what Vicki had said, Arnie had been a shadow of the horse we got to meet when he'd been purchased at the fair. I wasn't surprised that such a nice horse had been found at the fair, as we saw many splendid horses. Oh to be independently wealthy. We easily could've bought a few horses and shipped them home. Maybe it's a good thing we're not rich after all. Imagine what hubby would say if we bought a bunch of horses in Ireland.