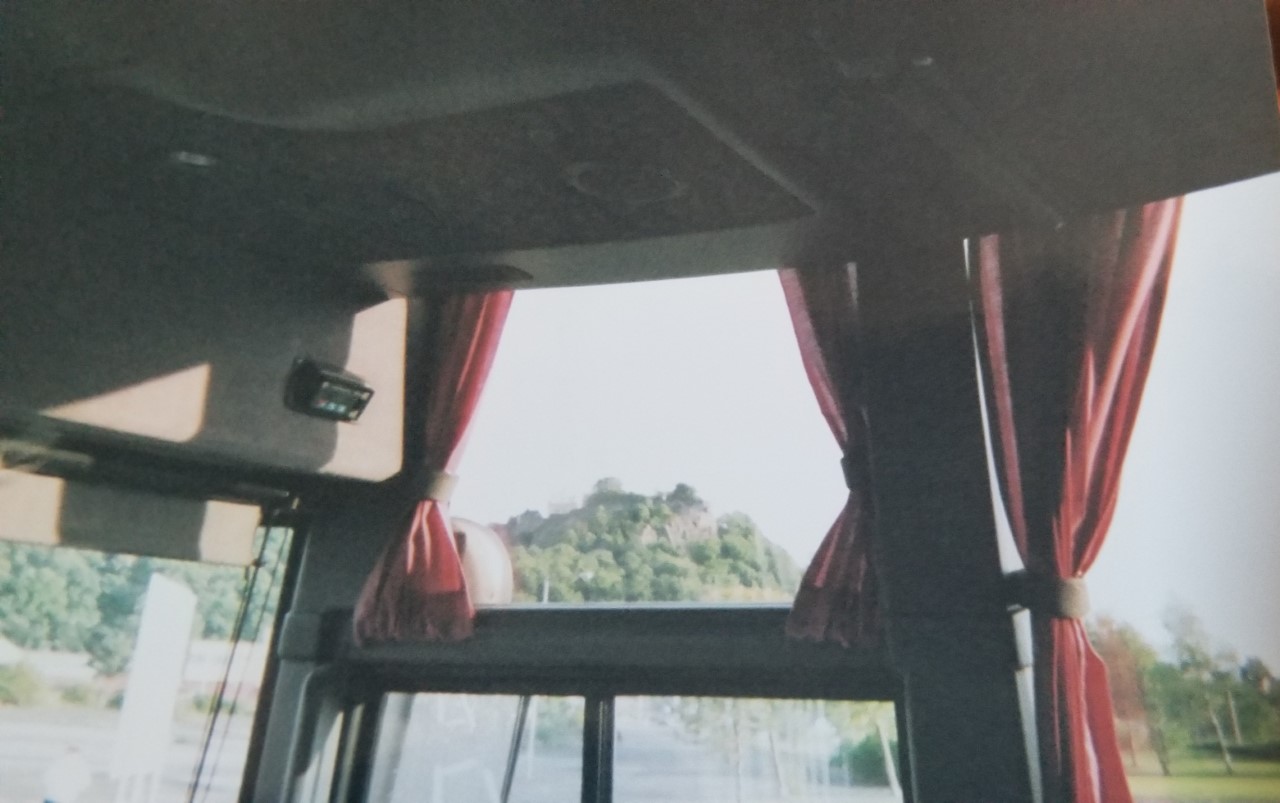 Catch and Release
On the bus ride back to Inverness, we had one thing on our minds, food. We hadn't eaten since breakfast, and that seemed like a lifetime ago. All the riding and walking as well as climbing, so much climbing, had built up appetites. We knew what we wanted, Chinese food, and as we'd passed by a Chinese restaurant the day before, we knew exactly where to find it. We've eaten Chinese food in many different cities over the years. It's one of those cuisines that it's really hard to get a bad meal. Chinese food is delicious, at least we think so.
As soon as we were off the bus, we made a bee-line straight for the restaurant. The menu was posted in a window on street level, while the take away restaurant was several floors up. We'd been amused by the people standing around, cell phones in hand, reading off the menu as they placed their orders upstairs. Overhearing one man order had made us grin and share a look. He'd been rather annoyed, as the last time he'd ordered, they'd forgotten to include his chips. Now, to us, this was rather funny, as we couldn't imagine French fries with an order of Chinese food. Rice or noodles, yes, but chips? It just seems wrong. But then, those in the United Kingdom and Ireland do love their chips. I can still remember the tall, lanky fellow who was speaking quite loudly into his phone and clearly upset, "don't forget me bloody chips this time. Yeh forgot me chips last time. I want me chips."
I'm sure, there were chips in his new order. We who were without a cell phone, checked out menu, tried to remember then climbed several flights of stairs in the very old building, to get to the order desk in person. We were handed a menu to refresh our memory, then ordered and added at the end, "oh, and no chips please."
"No chips," the pleasant, little fellow asked with a thick, oriental accent while looking at us with surprise, "you no want chips? How about," he contemplated for a second or two, "some nice chicken fried rice then … yes? You like some chicken fried rice?"
"No thank you," shaking my head, I politely declined, "we're good. We just don't want the chips."
"So," he frowned, "how about something else then … what you want?"
"Nothing else thanks," I smiled and shook my head again, "we don't need anything to replace it."
"I give chicken fried rice," he cheerfully insists, despite our protests, "you like it. Order ready very soon, no worry."
He wasn't wrong. Our order was up very quickly. Though the counter was very small, the sounds of a bustling kitchen could be heard from behind a near door. It was a very busy take away place. Leaving with a bag that was far too big, and clearly held far more food than two people could eat. We headed for our bed and breakfast. Though it probably was more food than we could eat, we were going to make a serious dent in it. Though ravenous, we certainly didn't need the extra container of chicken fried rice, and though we hated waste, couldn't eat everything. It was one of those times, when food went to waste.
After breakfast the next morning, we caught the bus and hit the road again. Headed back to Glasgow and the airport, we were saying goodbye to Scotland and Europe. It was time to head home. We'd experienced and seen so much. It was time to go back home and tweak the novels I'd written from a dream. We'd learned so much, yet so much had been accurate as well. They say you should never write what you don't know. In our whirlwind three weeks, we'd experienced some real Irish and Scottish living, and it was time to put that flavour into the story. It's a rather bittersweet thing, going home. On the one hand, we were eager to get back home, see the family and friends … be back with our animals. On the other, the adventure was coming to an end, and we could've travelled and explored far more. There was so much more to see and do. That point made itself even more known as we passed through the village of Stirling. There on a hill in the middle of town, rising up in all its glory was Stirling Castle. Gazing up at it, we knew we had to come back. There was just one more castle we simply have to see and experience someday. We hadn't even left, and Scotland was beckoning us back.
It was our last day in Scotland, and we intended to make the most of it. We took in a show that went until midnight. We'd seen Irish dancing, and this was Scottish dancing and entertainment. We didn't think it made sense to pay for a bed and breakfast or hotel room, when we had to be at the airport by four in the morning anyway. We would snooze at the airport. Well, sweetpea would snooze and I would read the paper. I can't sleep at the drop of a hat just anywhere like some people can.
Once at the airport, the girlchild and I grabbed a bite to eat from a fast food joint. It was about the most expensive, fast food we'd ever purchased. The total was just under nine pounds for what amounted to two kid's meals. Translate that into Canadian funds, and we paid about twenty-four dollars for those tiny meals. After we ate, sweetpea went and changed into pajamas, then we settled down for the night. Me with my newspaper, she stretched out on empty seating to sleep, a backpack for a pillow. We were barely there a few minutes, when airport security walked by. We both watched them then turned to each other with wide eyes.
"Um," I slowly said with a grin, "were they carrying machine guns?  They certainly looked like machine guns."
"They looked like machine guns to me, too," sweetpea agreed as she made herself more comfortable, "night mom."
"Night sweetie," I automatically answered before turning back to my paper. After all, with that sort of security on guard, we were bound to be safe … maybe. I didn't sleep, sweetpea and a businessman who arrived at the airport even later than we had, and was leaving on the same flight as us, both somehow could sleep on those hard benches. Once on the plane, that girlchild of mine, promptly fell back asleep again. Those who gave her attire funny looks when we were standing in line to check in, suddenly appeared envious. She was completely cozy and comfortable, and the rest of us certainly weren't. She woke when we were approaching Toronto, all fresh as a daisy while I felt like something the cat dragged home and left on the steps two day ago. She was studying her passport, wishing that customs stamped the pages in order, instead of all willy-nilly, when she noticed something that took us by surprise.
When we had arrived from Holland to Scotland, the customs official had given us the third degree. Why were we there? Where were we going? How long were we staying? Did we have tickets to leave? She seemed very suspicious of us, and seemed to think we had no intention of leaving though we assured her that not only did we have a flight to catch out of Glasgow in a few days, we also had a family and life back in Canada. No, we didn't want to live in Scotland. We hadn't noticed then, but instead of stamping our passports for the day we were to leave, in line with the tickets we'd shown her, she'd stamped that we had to leave Scotland after only two days. We'd stayed past what she'd stamped, and had been completely unaware of it. Why she'd done so without telling us is a bit of a conundrum, but thankfully, we hadn't had any problems. As for Nessie, let's just say, we believe in catch and release, and leave it at that.