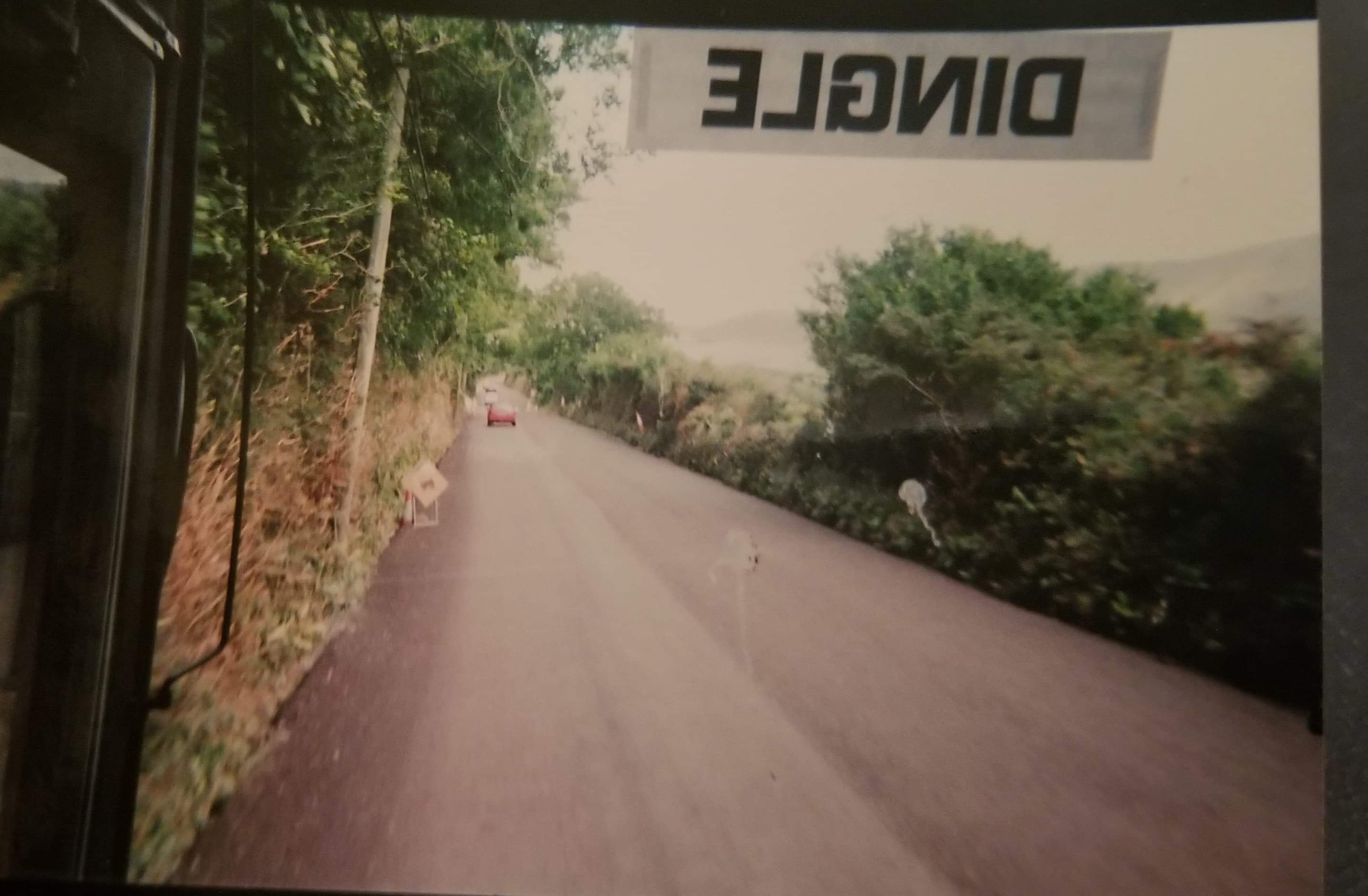 Goodbye to Dingle
After the ride, my sweetpea and I headed off on foot to the little pub and restaurant that along with a few homes, pretty well comprised the hamlet of Ventry. We were actually hungry, maybe not big meal hungry, but we wanted something. We entered the little restaurant area of the building that also housed the post office, fully intending to have a sandwich or something lunch-like. That plan went out the window in a puff of smoke 'poof' when we saw the most amazing thing ever. Behind glass was the hugest, most amazing, lemon meringue pie we'd ever seen. It was so tall, so huge and completely delectable in appearance. We had no choice in the matter. Riding had made us hungry, and that hunger could suddenly only be sated, by a piece of pie. We decided to order just one piece and share it. After all, it was incredibly tall. Even a small piece should be enough. As it turned out, it was more than enough. The piece of pie we were served was gigantic, gargantuan is actually a more apt description. We called the same cab that had brought us to Ventry, and it arrived with perfect timing, right when we were finished.
Cabbies in Ireland are a different breed. We never met a cranky one, nor were they anything but polite and helpful. This one was no different. Sweetpea wanted to go back to the beach we'd ridden on, because she wanted to collect some seashells. The crazy ride hadn't left any time for even the briefest dismount. Seeing as I didn't know if we'd ever be back, I wanted her to get the opportunity to do so. I asked the cabby if we could go to the beach, and was a bit surprised when he immediately agreed. Not only did he not charge us extra, he told her to take all the time she wanted. He would read the paper and enjoy his coffee. She could hunt for shells to her heart's content.
Of course, we eventually had to bid adieu to Dingle. As quaint and lovely as it was, as much as we could've enjoyed more time there, alas, our time in Ireland was limited. There was so much we still wanted to do, before we had to leave. After all, this wasn't a vacation per say. This was research for the novels that came from my dreams. I had to learn as much, experience enough, and feel enough of the island and culture to know if what I wrote, what I'd dreamt was real. I was swiftly realizing that a week and a half simply wasn't enough. Though we fully immersed ourselves in the Irish life, there was no way to know enough in such a short time.
We travelled on a budget, a serious one. We hunted for the cheapest, yet nicest bed and breakfasts we could find. We'd have a good night's rest, a great breakfast, pop an apple and muffing into our pockets, and head out for another day of exploration. If we got hungry during the day, and we'd finished off the apple and muffin, we'd pick up something from whatever local grocer was handy. We swiftly learned that grocery stores have a deli section. They'd quite happily make a sandwich for us, in no time at all. We'd choose a rather long baguette along with whatever we wanted on top of it, watch it being made, then go share it somewhere lovely, like a park bench or ancient, stone wall. Together with a bottle of water, it was enough. Once in a while, we'd change things up and go with fruit. It was enough, and we didn't feel a need to go for an evening meal. Besides, who had time for a meal? Sitting down for a meal took up too much time. If it wasn't something special, like a medieval banquet or the like, why waste the time on it? We had things to do and see, sit down meals weren't in the plans. Not only did they take up too much time, they were also money we didn't want to spend.
So, we left Dingle and all its appeal behind. From the dolphins leaping in and out of a shop wall in the village, Fungi the live dolphin that we didn't see yet learned all about, the lovely, colourful homes all in a row, they were happy memories we left behind, yet took with us on our journey of making memories. We made our way back to Dublin, where we explored for a day, then the next morning, took a bus to Kildare. We couldn't go to Ireland, and not visit the famous, Royal Irish Stud. It was a must see while we were there. After all, the main character in my dream went there, so obviously, we had to as well, but that's a tale for another day.