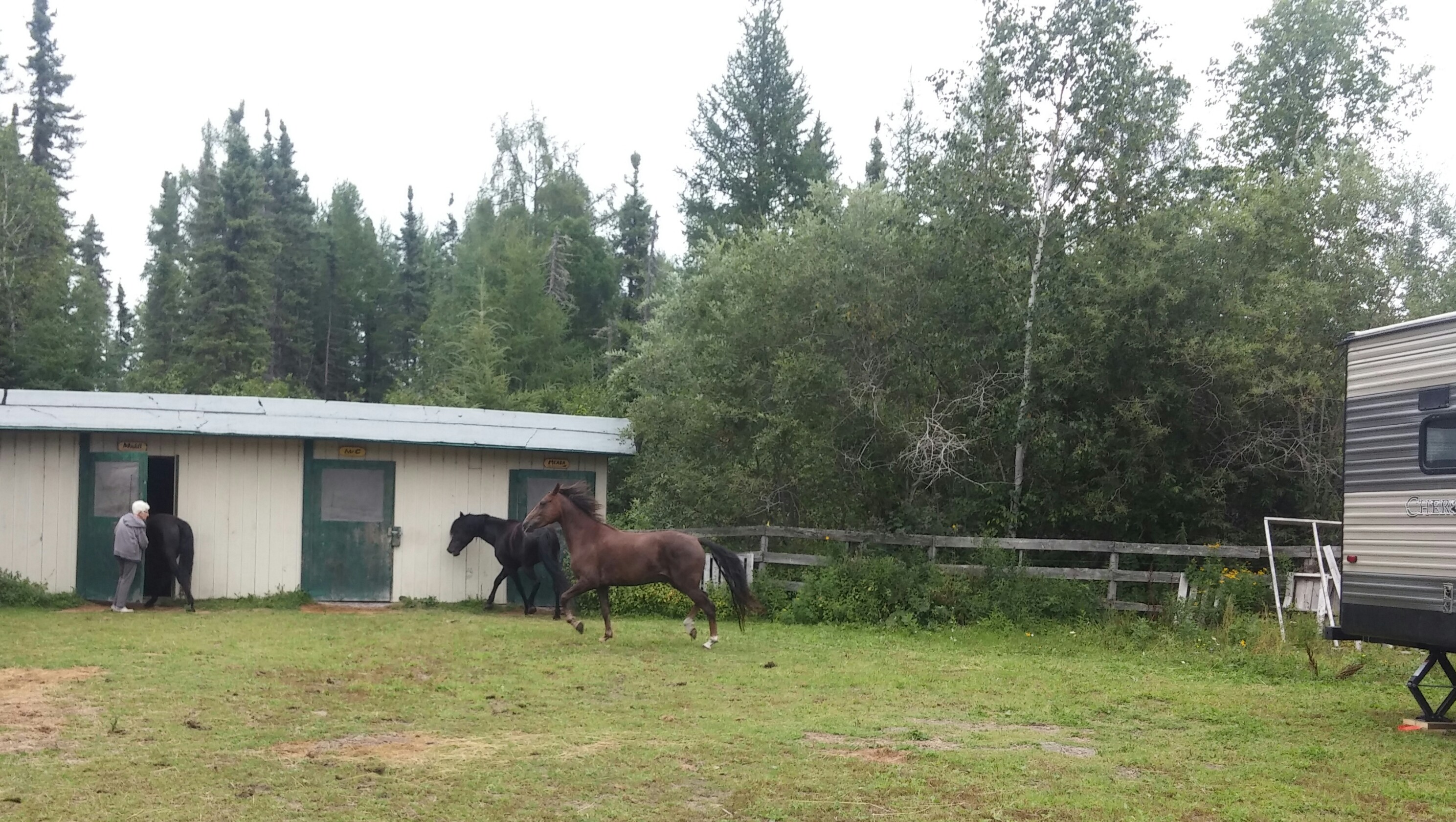 The Best Kind of Friends
Over many years, I've sold many horses, to many people. Some of those weren't great sales for one reason or another, the horse didn't end up in the home we hoped for, or the people turned out to be, well crazy, extremely crazy in some cases. If a person could only know ahead of time, things would be different, sigh. Those are filed under regret,
Then there are the amazing sales, where the horse gets the owner and home you hope for, the person sane instead of wicked and insane, and you smile when you think of them. So many of the sales I made, resulted in long lasting, wonderful friendships.
This past weekend, the girlchild's beau had a sudden job by Kenora, Ontario, and she went along for a bit of a holiday. Alas, a long weekend is not conducive to finding a spot to park a camping trailer, and harbourfest made the issue far worse. Who came to the rescue? Someone we sold a horse to, almost a couple of decades ago. Someone who became a friend. There's a great horse community in that area, and many lovely people, yet Margaret Fairfield is way at the top of the list. She offered a safe place for the kids to park the trailer, and sweetpea loved it. After all, what's not to love? Quiet, forest-like setting, with the scent of evergreens in the air, a lovely assortment of critters, including Maneline Maiden Canada, fondly known as Maddi, the Morgan we sold to Margaret as a filly. On top of that, there's the added enticement of great conversation and the consumption of many cups of coffee. I easily imagine them having what Margaret calls 'many chin wags', in that lovely English accent of hers. Margaret's daughter, who owns Maneline Merry Gold, or Willow, also offered a space in her yard, but the trailer is long and new, and some tree branches rather doubtful, so they decided to stay put where they already were. That was okay, as the kids were content and settled in where they were. They did however, have the chance to socialize over a bbq and fire.
It's not the first time, we've enjoyed the camaraderie of the horse community around Kenora. We've gone to their fun show, ridden the beautiful trails, and enjoyed hospitality and good times. Horses have been responsible for some very good friends, and Margaret is a prime example of the very best kind. If only every horse, could go to people like Margaret and her daughter, Sarah. What a wonderful world that would be.
There's a saying amongst people who know Margaret Fairfield. If there's a second life, and you come back as a horse, you want to be owned by Margaret.
Thank you, Margaret, for taking care of my girlchild.