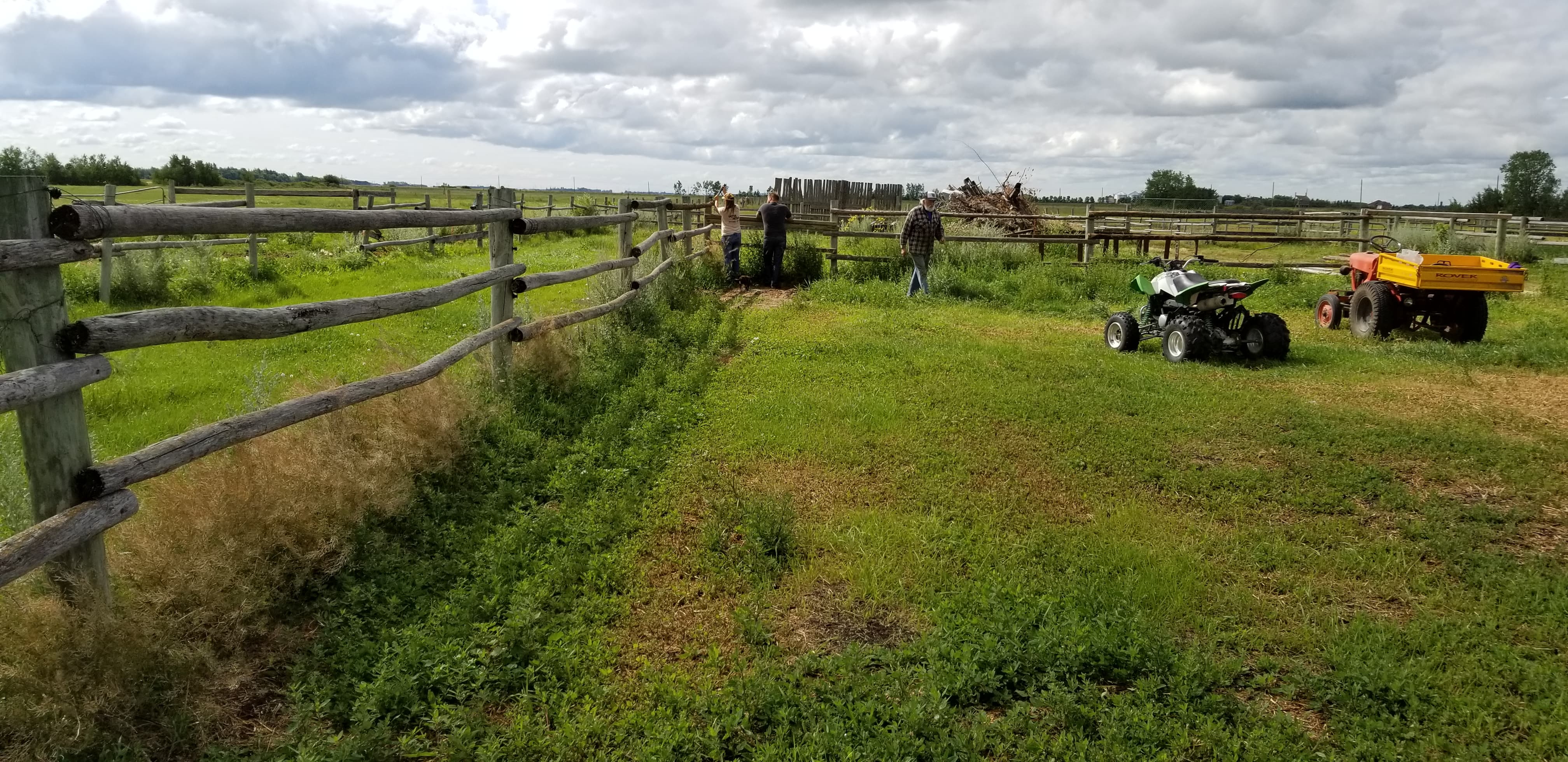 On the Twelfth Day of Jim
Having Jim join the family, has brought to mind, memories of a past blind horse, but not for me, for the hubby. When he was a young boy, his family was friends with folk just down the road, who had a couple of horses. There was a retired cutting horse with what hubby calls a bum leg, and another old, pinto gelding that was blind. Their son, who was about the same age as the hubby was back then, would ride King the cutting horse, and my hubby would ride Buckshot.
Now, Buckshot was no ordinary blind horse. He was a thinker and a schemer. He would walk up to a fence, touch it with his nose then carefully back up, as if counting out the paces. Without hesitation, he would fearlessly canter to the fence, and pop right over. I would've thought that the last thing anyone who owned a blind horse, would have to worry about was it jumping out, but apparently that's a myth. Listening to hubby's boyhood memories of riding buckshot all over a huge pasture, between the cattle and a bull bison, gives us renewed hopes for Lucky Jim. Blind or not, we hope to ride him.
It took half a gorgeous day, to finish Jim's new pen. The last vestiges of the old farm fencing, had been removed by sweetpea, shortly after Jim came to live with us, and there were rails to go up before it would be suitable for him. Besides rails, the area had to be gone over with a fine tooth comb, to check for potential problems. There couldn't be any pokey bits of this or that for him to snag his halter, or cut himself on. We wanted him into his new digs, and visiting through the fence with his future ladies, as soon as possible.
With the rails up, fresh water in the tub he'd been drinking from in the round pen, we deemed the pen, Jim ready.
Of course, the day couldn't pass without a mishap of some kind, and surprisingly enough, for once I wasn't the one wounding myself. Poor sweetpea dropped a big tub of water she was trying to dump, right onto her toe. A good many ouches, along with hopping around ensued, but as stubborn as a little donkey, she wasn't about to quit until the job was done. After hobbling around worse than I do, I finally convinced her to go up to the house to ice that colourful toe, have a bit of lunch then move Jim over.
Because the girlchild was wounded, I had the privilege of walking Jim all the way from the ring where he's been spending his days, to the new pen. He was clearly confused. I'm not even kidding, he was completely perplexed, incredibly hesitant, as I walked him right on by the round pen. His head turned towards the pen that had been his home, since the day he'd come home to us, and he had no idea what was going on. That gelding walked more carefully, more cautiously beside me than any horse ever had. He wasn't scared, wasn't spooking or acting at all worried, he was simply wondering what was going on.
We talked as we walked, or I talked and he listened. I told him not to worry, he wasn't leaving, there was no trailer waiting, nothing bad about to happen.
"Step," I said as I led him through the gate into his new space. We did the walk around the inside of the pen, so he could get an idea of his new space then I showed him where his water tub was. After he had a long drink of water, he was released to explore, but did he? He did not. Instead, he hung around with sweetpea and I.
I took him for another walk, showed him where the tall grass was, and left him there. He had his own ideas, and followed me back to the gate. We finally left him to get used to his new surroundings. There was a plank to replace on the path to the back pastures, and work to do on a shelter as well. We wanted Jim to have a few hours to familiarize himself with his pen, before being introduced to the girls.
After we were done, I stood resting folded arms on a rail, watching him for a little while. To my great surprise, Jim made his way over and ever so tentatively, reached out to touch my face with his nose. I fully expected him to walk away, but he stayed. Not only did he stay, he also waited while I picked a handful of grass for him, then another and another. Some would say this wasn't a big deal, yet for Jim, it was. Jim didn't like hands reaching to him from the other side of the fence, not ever. These simple things made my heart sing.
A few hours later, I witnessed the girlchild picking weeds in there, Jim hanging over her, as if critiquing her work. Shortly thereafter, she was on the outside of the fence, picking grass for him. Handful after handful of grass, while I smiled at the sight.
"You know he doesn't want you to stop that, eh?" I said with a chuckle.
"I know," she grinned back, "when I went to leave, he figured he was coming out the gate with me too, funny guy."
It certainly appears that Jim has turned into a regular horse. I would dare say, things are progressing quite nicely indeed.