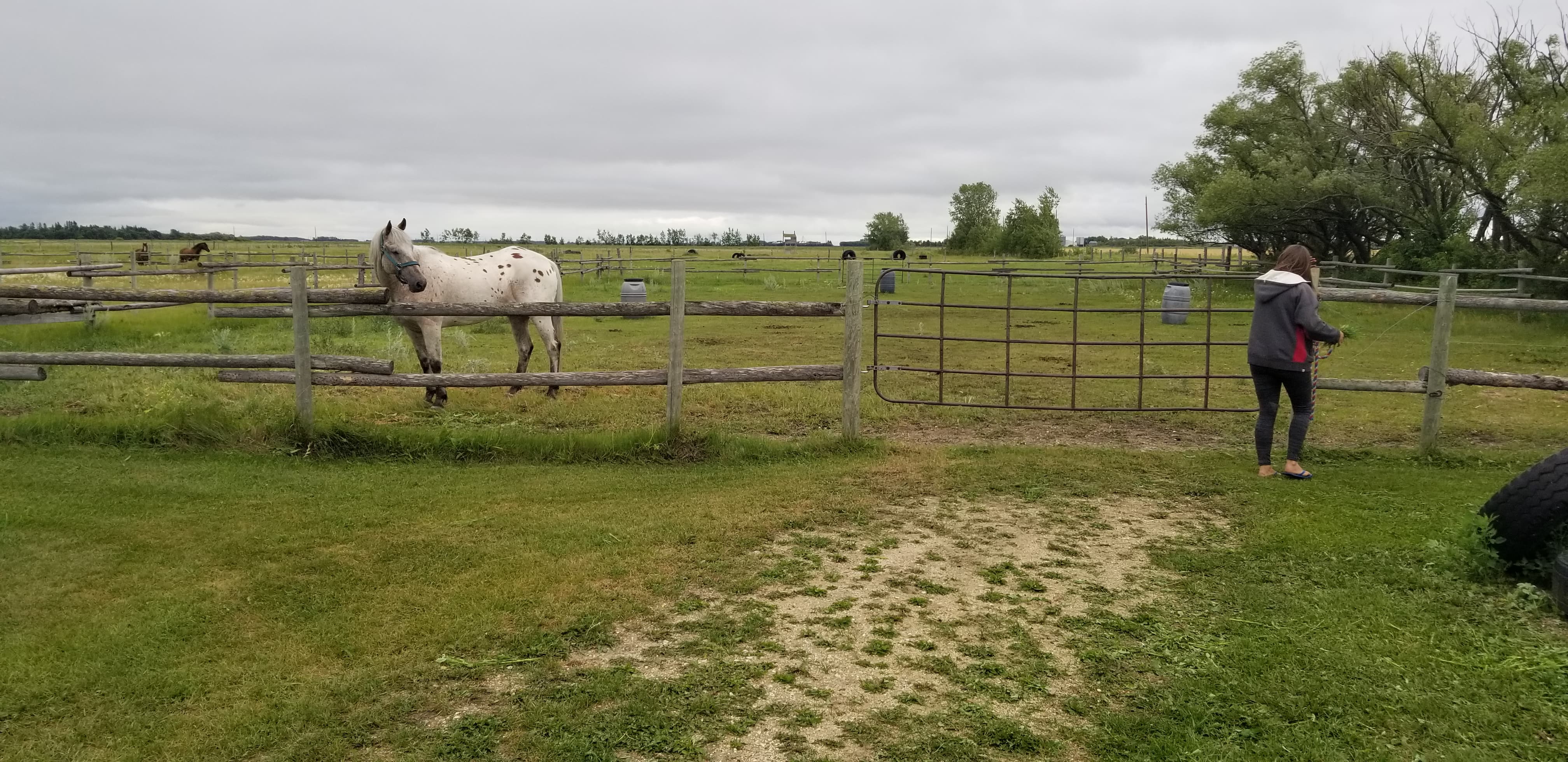 Eleven Days of Jim
We were cautioned that having a blind horse, would be a challenge. Well, the eleventh day came and went, and all we've had to deal with, is a horse that's had his faith in humans seriously shaken. Sure, he's blind, so everything he went through was drastically compounded, yet when it comes down to it, he's like every other horse that's suffered some kind of abuse. He has to learn to trust again, and to count on his humans for direction instead of making decisions on his own.
It's not that we're entirely, completely inexperienced with blind horses. Just down the road from us, there lives Bambino, a sweet, blind appaloosa mare that has come to visit here a few times over the years. I've handled her, and though one must always remember that she's blind, she's a regular horse as well. Remembering to be a horse's eyes isn't such a difficult thing to do, and so far, we've had a great time with our new fella.
He's been letting go of his nervous angst, and we've made sure not to give him any reasons to doubt us. Seeing a relaxed horse, is the reward for patience and kindness. He knows his name now, and though he still much prefers sweetpea, then hubby, he's fine with the rest of us as well.
When the girlchild put him out to graze, and he immediately turned to go back to her, we knew we'd won more than the battle. The tides are turning in our favour. She spent time with him off and on all that day, and his response was the same every time. Jim's realized that he likes company. He welcomed scratches, and pats, and handfuls of grass. Whenever sweetpea walked to the gate, he followed. It's a wonderful thing, when an abused horse seeks the companionship of a human. Jim loves sweetpea. It's there in the way that top lip reaches out to push her around. Off go the sunglasses. When she's leaning to pick them up, blind or not, his lip to hip contact, is unerringly accurate.
This eleventh day, when hubby was working in the garden, Jim came over to listen, and clearly wanted out. He stood at the gate, and made it obvious. "Please sir, take me out?"
"Sorry Jim," hubby apologized, because we talk to our animals, "you have to wait. It's way too early to go in already. Go eat grass."
With a big sigh, just as if he understood, Jim finally walked off.
Usually, Jim would stay out until the daylight waned. This unsettled weather day, we brought him in early. We called him over, and yes, he now comes when called, and began the journey from pasture to round pen. We want to give him as much time as possible, to graze and gain weight. Also to encourage weight gain and increase positive reinforcement, we allow him to graze when moving him from one pen to the next. That horse hoovers grass, like he's afraid he'll never eat it again. One might think, we're teaching him to constantly pull for grass, yet that's not what's happening. Whenever he hears a cluck of encouragement, he already knows that it means walk. He doesn't argue, he simply raises his head and follows. I love how he stays close enough to feel my elbow against his shoulder as he grazes. It's as if he's reassuring himself of my presence, and of course he does the same with sweetpea. People are his eyes, and he can trust, we'll not lead him into harm.
Next, we're going to begin teaching that we'll not harm him. No rope will touch to cause pain. No ears will be twisted, no halters shanked down. Soon, the next steps in his rehabilitation begin. But first things first. We've been trying to put weight on our boy, and he's been walking it off. He's often restless and begins walking in endless circles. If he's not eating, he's walking, and I believe that the girlchild has figured it out. Horses are prey animals. They live in herds for safety, and Jim has no herd to warn him of impending danger. We think, he walks to stay safe. He can't see danger creeping up on him, so he remains on the move. It's a theory, but one that totally makes sense.
A pen is being readied, for Jim to move into. One where he can visit with the two lovely, older ladies that he will soon live with. The hope is that when he has them to watch over him, he'll be able to finally relax. Very soon, we'll have our answer.