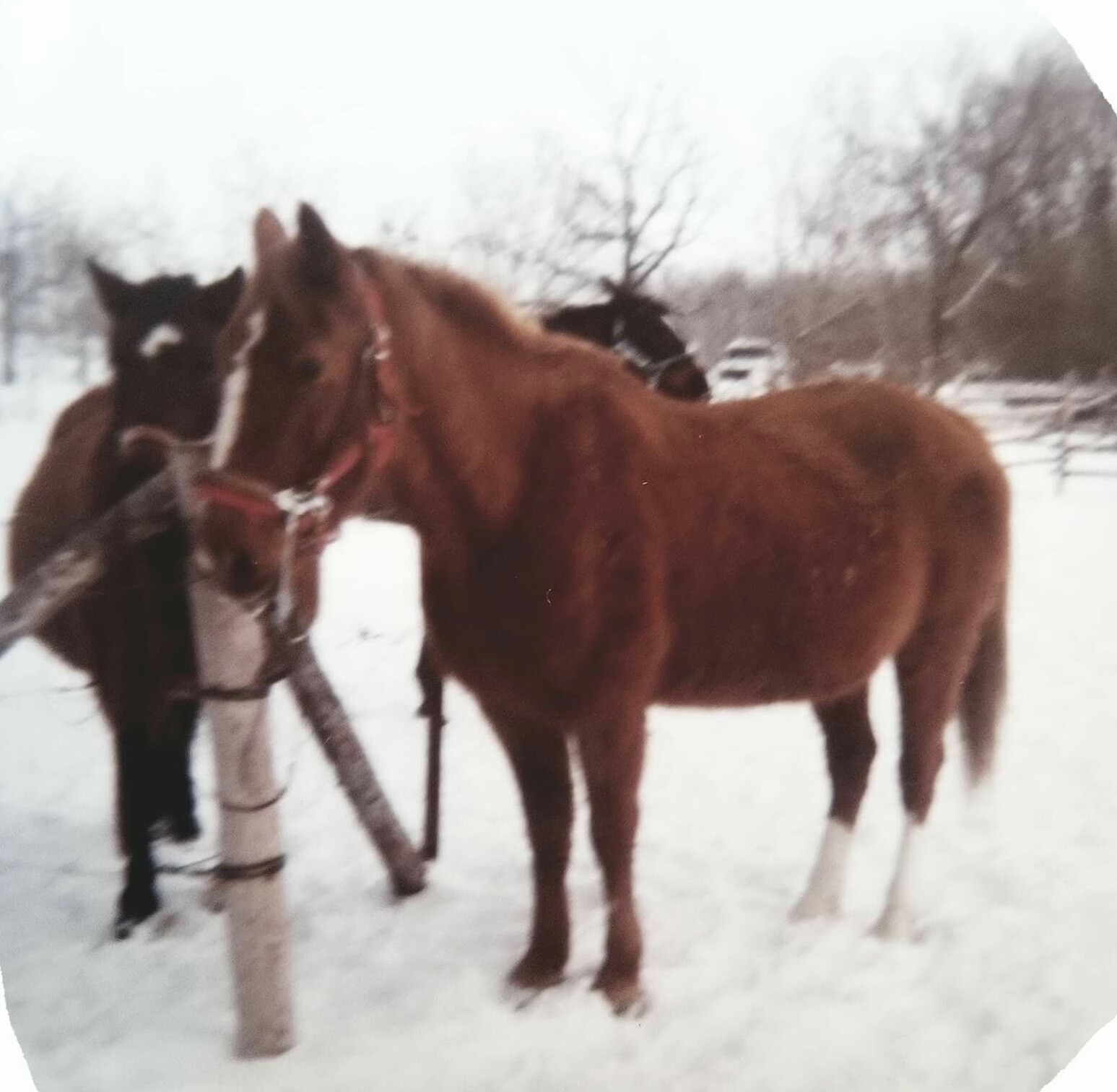 Horse Tails
Before I continue with Kidd's story, I'm going to take a leap back in time. To Flicka, the tiny, sorrel Shetland gelding that put up with my 7 year old nonsense. Yards of rope draped all over him, imitating what I'd seen in one of my many horse books, I became completely tangled in it all. To the point where I was caught up in the snake-like tangle, hanging under him while he happily grazed, and I hollered for a long time for my older sister and her friend to save me. I begged to tag along whenever she visited the friend who owned Flicka, (yes, I realize Flicka means girl. I didn't name him).
Then the following summer, there was Pepper. An Appaloosa mare that was horribly barn-soured, to the point she wouldn't move further than 10 feet from it. I would beg to tag along when my sister went to visit this friend. They would saddle her up, I would climb aboard and be as pleased as punch to sit up there for hours. I was stubborn, persistent with my constant pestering and nagging, and despite the spins and tiny half-rears of protest, eventually got her away from the barn. Twice she backed into the trees where I was hooked by a branch, only to be left hanging there when she shrank from under me, leaving me hanging there. Arms and legs flailing, again I was hollering for help. Help that was none to speedy, as they were hanging out in the house, and couldn't hear me. Eventually they would come, Pepper would be postioned under me, and my world would be good again. Over the days of that summer, I nagged at Pepper until shs took me all over the pasture. Then bit by bit, a little further up the driveway. The day I got her to leave the driveway, I felt a sense of triumph. Within a week, I had her going down the road to the mile corner! Life was good. I was in my glory. Then came the day I followed my sister, only to arrive at her friend's, in time to see Pepper being loaded into a horse trailer. My stubborn persistence had fixed their horribly barn-soured horse, and they'd seen the chance to sell her. I was broken-hearted.
Then there was Ginger, who would buck you off, then take after you the second you hit the ground.
JuneBug that bucked so hard, she dumped me several times a day, until I got good enough to stick.
Dinah, Marigold and so many of the other neighbours horses came along afterwards. If you owned a horse and lived within walking or bike-riding distance, you learned who I was. Thank goodness my parents were complete non-horse people. If they'd known what I was up to, that my bumps, bruises and scrapes weren't from wiping out on my bike, like I always said, they would've had a fit. Because of all these horses and generous neighbours, I had an amazing childhood.
The last horse I got to ride, before I finally saved enough to buy my own was Satan. A horse that was as sweet and gentle as could be. I used him to deliver newspapers, and he knew my route as well as I did. I would cut across backyards. He would go to the road and meet me at my next delivery. He was such a good boy. And another hprse that became so good, he brought in good money when he was sold.
I mowed lawns, trained dogs, picked veggies, anything to make money. When I was 14, I got a job at a huge thoroughbred farm that was owned by a vet. There were dozens of broodmares, their foals, race horses, 6 stallions, their own racetrack, as well as a state of the art operating room. I learned and learned, soaking it all up like a sponge. So many stories to tell, like when one of the stallions grabbed the man leading him, by the arm, smacked him like a rat against the wall of the barn then dropped him and took off! "Trudy, go get him!" And I did. There are many stories to tell of that time, but not right now. All of it, everything led up to me being able to save enough to buy my first horse. My beloved Thow-ra. My very own cave painting!