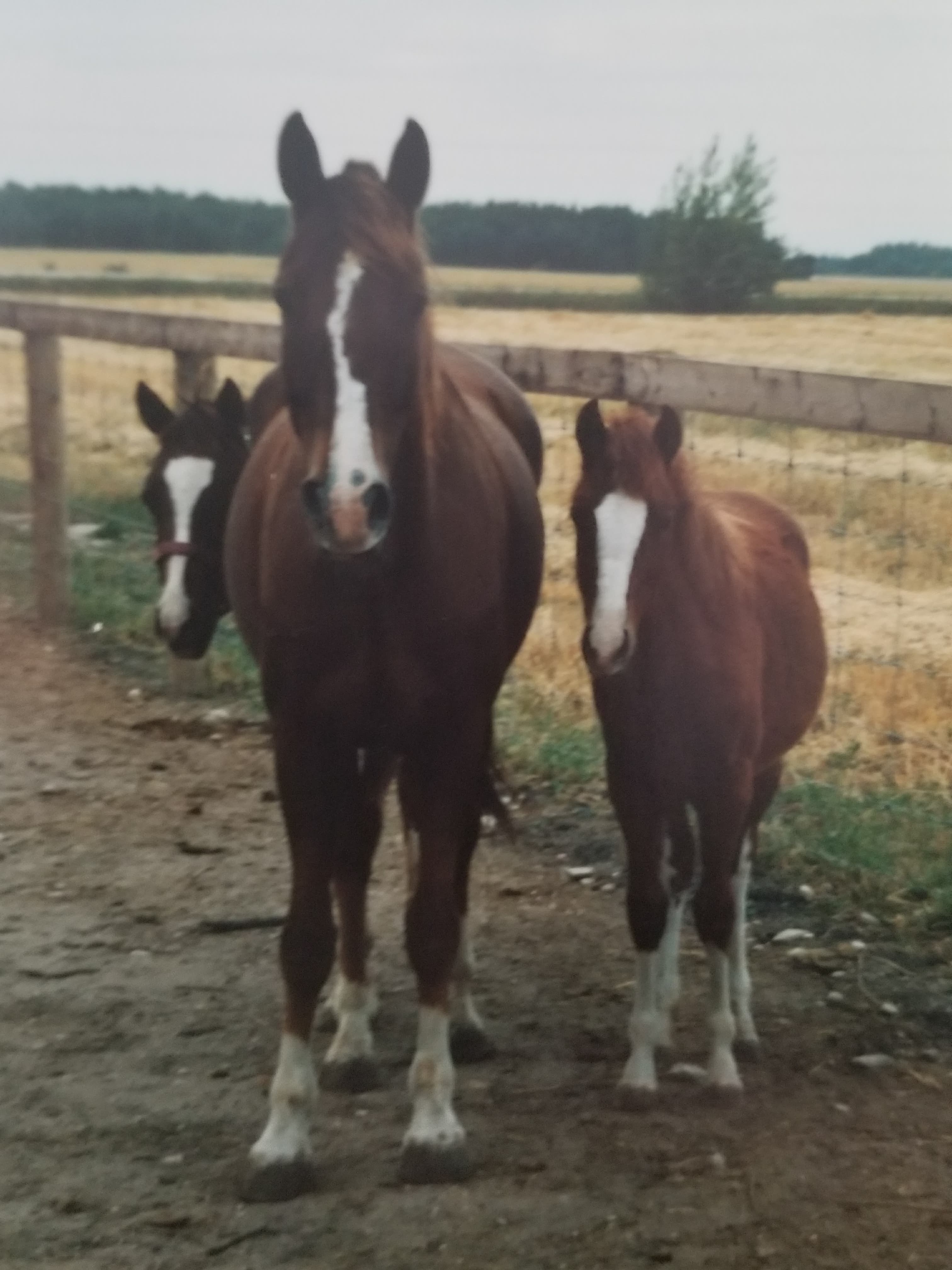 My husband has always been fascinated by the spaghetti westerns, the western dress, the fancy tack, and so many horses with 4 white legs. Or as he would say, a horse with lots of chrome, whitewalls all around. Unfortunately, colour isn't a good reason to buy a horse. Sensibility, durability, versatility, these are good things to look for in a horse, colour should be low on that list. Well, he wanted a horse with whitewalls, and I enabled him. I found a Saddlebred crossed with a Saddlebred-thoroughbred that fit most of his parameters. It was tall, 16.2, was a good-looking fellow, and had those all-important whitewalls! I called and asked all the necessary questions when looking for a 'husband horse'.
Is he quiet?
Oh yes, you could shoot off him.
Is he sensible?
Oh yes, he's been shown in big, busy shows, no problems.
After a few more questions, a bit of negotiation and a huge leap of faith, we loaded up the motorhome and headed for British Columbia. This wasn't a trek taken lightly, as it was a good many miles from where we lived in Manitoba. As we always do, we did a walk-around the vehicles, every time we stopped. We were in the mountains near Kimberly, B.C. when we noticed we had a big problem. The hitch was breaking away from the motorhome! Fortunately for us, the gas station attendant knew of a welder only 2 miles away. A short phone call later, we had directions and limped to get repaired. Not only did we get the repair done, we had a bit of a tour of the place, a lovely cedar home by a beautiful wide, clear river at the base of a mountain. It was simply gorgeous. He also owned a Saddlebred. Though they wanted us to stay the night, we were almost at our destination so politely declined. That's something I've regretted whenever I think about it. They were brimming with stories I would've loved to hear.
Anyway, we finally arrived to see our new horse, stayed overnight in their huge log home and dang near froze to death, had a bit of an introduction to Sundance Kidd, then loaded up and headed home.
Every few hours, we unloaded him, walked him around to stretch his legs and drink if he wanted, (he didn't), then back in he went. As we decided to do the trip home in 2 days, we boarded Kidd just outside of Calgary the first night. He went into a comfy, big stall. We headed for the local Canadian Tire to repair the exhaust that was starting to break off the mororhome. It was freezing cold when we began the repair, and melting within a half hour thanks to a chinook. The next morning, we loaded up and were off bright and early. Just like the day before, we gave him multiple breaks, until we got to Regina, Saskatchewan that is. We stopped at a big truckstop to eat, and I decided to give Kidd the chance to stretch his legs again. After a good walk around, I led him back to the trailer, and he said no. He said it with every bit of his being. He had no intention of getting back in that horse trailer, no way, no how. It took 2 hours of cajoling, begging, bribing and about the time I was thinking I would have to ride the 375 miles or so to get home, he suddenly climbed in. Needless to say, he stayed in the trailer until we got home. It took 3 days before he relented and drank our water, and he wasn't at all the sensible horse he was touted to be. Shoot off him? Not likely. If you shot a gun off that horse, you'd shoot right off him. No doubt about that. He was a complete wingnut, hot and snorty, didn't tie, and didn't know what walk meant. Owning him was an adventure. Almost always exciting, once in a while, darn near terrifying, but we grew to love that big goof. Here he is, babysitting. He loved babies, and human kids, too. There are many stories to share, but this is the first of them.