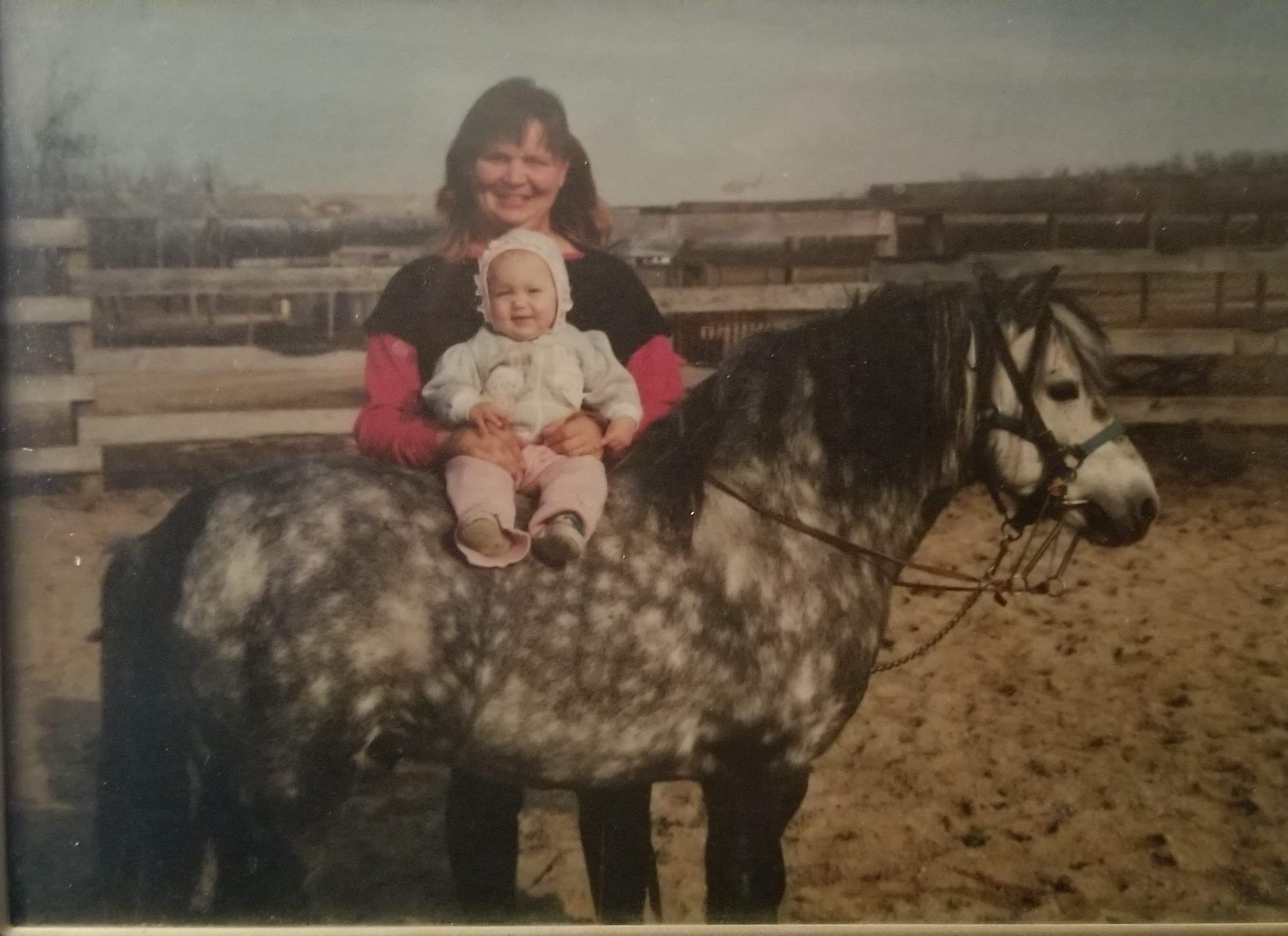 In Praise of Ponies
Over the years, some pretty wonderful ponies came into our lives. Little Tina, one of many I had when I was a teenager was a special one, as were many that came after her. When hubby and I married and bought our farm, I lucked onto a lovely, Section A Welsh mare and her colt by a Shetland Stallion. I worked with the little mare, Tippins and sold her in not too long a time, but her son, Chauncey was a different story. He was so cute, so much fun to work with and train, that I hung onto him for a little while. As black as coal, he was as smart as a whip and if I had kids to enjoy him, I would've kept him. I didn't have kids, but I did have friends who had relatives looking for a great pony for their grandkids so Chauncey left for a new home.
Fast forward a couple of years, and there I was, due to have a child of my own. Of course, I had to find a pony, not just any pony, a great, trustworthy pony. I began to look around, to no avail, when my buddy Del suggested I check into Chauncey. After all, the elderly couple who had purchased him for their grandkids might have decided that the time for a tiny pony was over. For all we knew, the grandkids hadn't been all that interested in a pony. I gave them a call and to my surprise and joy, they were willing to sell him back to me. The novelty of a pony had worn off before too long, and as they didn't visit all that often, Chauncey didn't see much use.
Wasting no time, Del and I hopped into the truck and went to see Chauncey. We were to meet down at the barn and as soon as we parked, eagerly hurried to the older, yet sturdy building. In we went but instead of an inky black pony, there stood a very dark, dapple grey one. Though he whinnied to us, we still looked around for another pony. If this was Chauncey, he'd grown into a chunky fellow, and the colour change was unexpected as well. It shouldn't have been, as Tippins his dam was almost pure white, it had been highly doubtful that Chauncey would keep his shiny, black coat. Still, despite knowing this, it was still a rather amazing change from what he'd looked like when I had sold him. Sure enough, the gorgeous pony was indeed Chauncey, and we took him home to be the new human baby's forever pony. He was the boychild's pony and remained with us, long after he'd been outgrown.
When the girlchild came along, finding a pony was far more difficult. I don't know why it was so hard to find a good pony, but it certainly was. I bought a purebred Welsh named Northern Cross Laddie, trained him to harness and ended up selling him, as he wasn't quite what I was looking for. Del and I happened upon a farmer about to take a pinto pony and her grown filly to the sales yard, and bought the mare right off the grain truck. To this day, I wish I could've afforded to buy them both, alas I couldn't. I just didn't have enough money to buy mother and daughter. All I can do is hope that the filly found a home as well.
Puzzle, as we called the tri-coloured Pinto pony I bought that day, was very nice, but too much pony for my little girlchild. It wasn't that she did anything naughty, as she was devoid of vices, she was simply to strong on the bit for my little one's style of riding. That girl wouldn't take hold of the reins if her life depended on it. Puzzle simply went wherever Puzzle wanted to, and sweetpea didn't have the strength to stop or redirect her. You see, sweetpea rode with two hands, but only a finger and thumb from each. Talk about a light touch. It just didn't work for Puzzle. Still, I hoped she'd learn to control the pony as it needed, and we kept Puzzle for a few years. In that time, we did a bit of driving with her, and she produced a lovely foal for us. She also became good friends with little Chauncey. Though sweetpea did ride her, and liked Puzzle, she decided all on her own that they weren't suited to each other.
"Mom," she seriously said to me, a little frown creasing her three year old brow, "I think we need to sell Puzzle to a different kid. I need a different pony. She pulls the reins out of my hands all the time."
"She does?" I smiled at my precocious child, "Is it too hard to ride her?"
"It's not hard," she seriously explained, "she just doesn't want to do what I want her to. She said she wants a bigger kid than me."
"If we sell Puzzle," making sure to be just as serious, I had to ask, "what will you ride?"
"Kidd?" An adorable smile grew on her cherubic, little face, "I can ride him."
"I don't think so, munchkin," shaking my head, I chuckled. That girl of mine always wanted to ride Sundance Kidd, something that was never going to happen. He was hot, snorty, prancy and more often than not, a complete wingnut. There was no way my little girl was going to get to ride him. Besides that, he was well over sixteen hands high. I like to match the size of the person to the horse or pony. Sweetpea was definitely getting a pony. I hadn't found it yet, but I certainly wasn't giving up either. I'd been searching for a teeny tiny Morgan for her from before she was born, unsuccessfully, yet that could change at the drop of a hat. All I needed was a little luck and someone who gave me an honest height measurement. People always seemed to want to impress me with how tall their horses were, or were going to be, and all I wanted was a miniscule Morgan.
So, Puzzle was sold to a friend and though that friend eventually sold her as well, she stayed in the area and it was wonderful to see her every time we headed into the city. She was smart, slightly obstinate and extremely predictable. In fact, she was predictable right until the very end. She was in perfect health, lovely and chubby, as shiny as could be and in her mid-thirties. Her owners had the farrier out to trim hooves and she had her turn along with the others. Puzzle was good with her feet, no fuss or bother, no arguing or the like, and she always just stood there to have her manicure. As soon as she was done, she was turned loose in her pasture again. I was told that she went out into the field, lay down in the tall grass on that lovely, sunny day and just like that was gone. She was a very old pony, and for some reason, the way she went was so Puzzle-like. She had to have her feet done one last time, and then she could go.