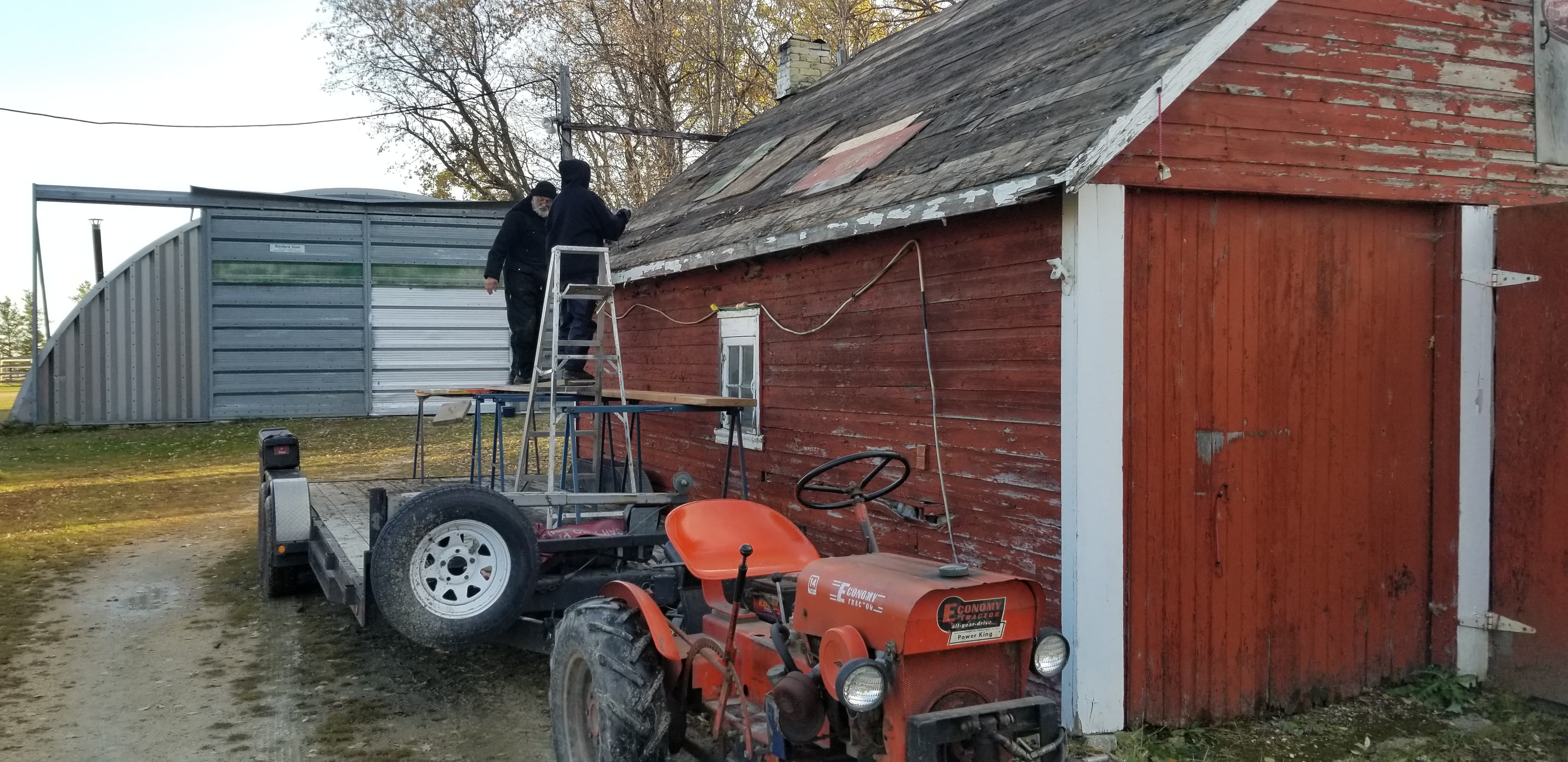 A Gift From Lucky Jim
An extra rainy fall, makes a person really appreciate the dry days. When a dry day is coupled with an amazingly warm temperature, it can't get much better than that. After days and days of rather unseasonably cold weather, a day where the thermostat climbs up to about twenty- three, or about seventy-three if you live in the land of Fahrenheit, is one not to be wasted. There's that 'things to do before the snow flies' list, and a warm, dry day is just the ticket, to knock some off.
This autumn there have been a few, big jobs on that notoriously annoying list. You see, the girlchild is the master of finding deals, and she's found some real doozies, the last while. First there's a super deal on treated fence posts. Sure, there's wire to take down, and we'll have to go with the backhoe to pull them out of the ground, but a bit of work, never killed anyone. Well, at least no one we know. You see, sweetpea has big fencing plans, and that takes many posts. Many posts, she will have. We spent just over four hours taking down wire, another five or so, and we'll have all the wire removed.
Her second great deal, is a whole lot of three quarter inch plywood, known as plyboard, in some countries. What's in the plans for it? Why, rebuild the garage roof, of course. No matter that it's snowed several times in the last couple of weeks. Below freezing at night, raining during the day, no problem. Off with the ancient, moss-covered, cedar shakes and get at it, is the best attitude to have. The garage may be old, but it's worth saving. A great deal on materials needed, is even better.
Hubby and sweetpea got busy putting up fence rails, and I tackled a few of the other jobs on the list. The girlchild's big bunny Balloo, had her outdoor kennel readied for winter. The Jimmy, our water truck used to fill the troughs, got a new tarp across the back of the cab, so no more wet butt after a rain, and the house had some winterizing. Of all the tasks crossed off, the new tarp on the Jimmy may be the one that made me smile the most. I'm all for feeling more youthful, but wet pants isn't the experience I'm going for.
As the girlchild suddenly had the opportunity to get more of the great plywood deal, we had to finish up for the day, and get ready to head for the city. While hubby and sweetpea packed it in, I brought Aurora and Lucky Jim their evening feed of senior. I have to admit, I love feed times. Jim has changed so much that it makes us smile. Yesterday was a milestone in Jim's forward progress. Not only did he allow sweetpea to run a hand up and down his front legs without fussing, he also allowed her to run her hand over his poll and forelock. It wasn't so long ago that there was no way he'd allow a hand to even come close. Even bigger than that, Jim allowed the girlchild, to touch his left ear. Now, anyone who knows Lucky Jim's story, knows that he suffered abuse that affected his opinion of people. His ears and legs were completely out of bounds. Today, I received my own special gift from Lucky Jim. I too, was allowed to run my hand down Jim's neck, between his ears, to linger on his forelock. I couldn't help myself. Since he was allowing so much, of course I went for more. Once, then twice, I stroked his left ear before he thought about it, and remembered that he doesn't allow his ears to be touched. I didn't press for more. My heart already singing with the joy, of what he allowed, I was pleased with the gift, Jim had given me. To some it would seem a small thing, a horse allowing his head and ears, or ear to be touched, but when a blind horse that has known abuse allows such privileges, it's a really big deal.