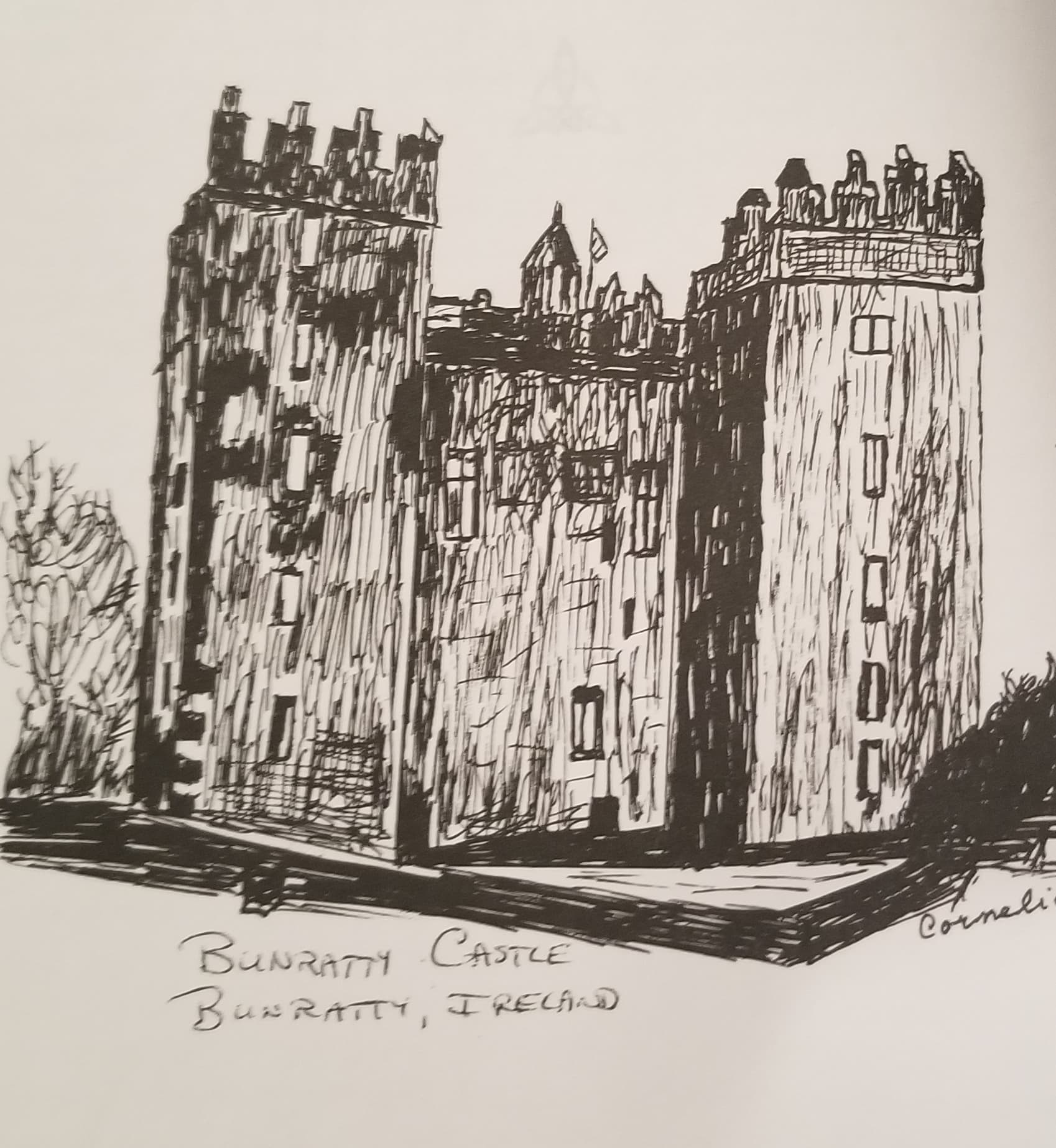 A Square Meal
The luck of the Irish was definitely with us. First we meet a bus driver, who somehow knew, exactly where we wanted to be. Then we somehow manage to get in on the medieval banquet, for that very evening.
We spent a good part of the day, touring the folk park. It was like walking around a medieval village, complete with animals and people. We were treated to the bugle of a Red stag, and watched an artisan, repair a thatch roof cottage. From what we understood, repairing thatch is becoming a lost art. It certainly was interesting to watch.
Keeping a close watch on the time, as we didn't want to be late for the medieval banquet, we decided to spend a few minutes, checking out the ever present, gift shop that always accompanied such places. Though sweetpea and I, had made a pact to avoid purchasing, too many unnecessary do-dads and random thing-a-ma-bobs, we ended up purchasing some whiskey taffy (definitely a necessity) and a couple of tiny, brass piggies. Why small, yet surprisingly heavy, brass piggy paperweights, you ask? Well, the three adorable, tiny Irish women who worked at the shop, talked us into them. They ridiculously inexpensive and cute, but the clincher for us was, the Irish saying that went with them. It's simple and perfectly fitting a country, where it can and often does rain, a good deal. Where a bit of bad luck, can lead to something good. 'Where's there's muck, there's luck'.
Luck is pretty awesome, as long as it's good luck, and the more the better.
Serenaded by a piper in full dress, on Uilleann pipes, which are the Irish version of bagpipes, the mood was set for our entrance into the grand hall. Upon walking into what was indeed, a grand hall, we were handed clay goblets of honey mead, a rather tasty wine made from, you guessed it, honey. Standing there in the small crowd, we were entertained by a gent in period dress, and a young woman in a gown, typical of the times. All the while, our gaze wandered the space, taking in the tapestries hanging on the walls, and the medieval architecture of the four hundred year old castle. Almost before we were ready, we were being beckoned by the man, who was now asking for our attention, from a balcony above the room. He invited us to climb the well worn, stone staircase, up to the next floor's great, dining hall. Long, heavy hewn tables filled the huge room, and off to one side was, a bit of a stage.
If there's one thing, the Irish know how to do well, it's entertain, and entertain they did. Our servers, dressed in period costume, were also our entertainers. They sang as we ate, and eating was entertaining as well. The meal started with soup and bread, but no spoon. It turned out that, we were expected to eat as folk did, four hundred years ago. All we had to use was, a simple dagger. Seriously, no spoon, no fork, just a sharp knife. As it turned out, a spoon isn't an absolute necessity, when eating soup. A bowl can be lifted between the hands, and even the last dregs can be enjoyed with a little work. A chunk of bread, soaks up soup, very well indeed. I'm sure that's what bread was invented for, sopping up soup! After soup, eating a meal was easy. Potatoes, meat, carrots? No problem. Cut, stab, carefully eat. Wash everything down with endless goblets of wine, as tea and coffee weren't a thing back then, and water was generally unsafe. We were, after all, experiencing life as it was, four hundred years ago.
The banquet did give a small glimpse, of what life would've been like for the well-heeled, back then. It was amusing to be served the meal, on a plank of wood. Eating off a squarish plank, seemed a tad odd. Yet when one sits back and contemplates it, a plank makes sense. Plates and cutlery weren't common, while wooden planks were readily available.
When I write my novels, I like to add in little bits of interesting trivia, and this bit certainly made it in. That simple plank of wood, has a unique story, steeped in history. We're all familiar with eating a square meal, or three square meals a day, but do you know, where the saying comes from? It's both simple and fascinating. Back when there were knights working for royalty and the rich, part of their payment was to receive two, square meals per day. A square plank was heaped with food, hence the saying of a square meal. So, the next time, someone uses the term, square meal, you'll know where it originated.
Anyway, after an evening of good food and entertainment, along with at least fourteen goblets of wine, and that's over and above the honey mead, the banquet drew to a close. Stepping outside of the castle wall, we stopped dead. For a few moments, I had no idea what I was looking at, it was that unexpected. To our surprise, our way was blocked, by water! The road was flooded. From the river, almost to the castle wall, there was inky, black water that shone from the lights reflecting against its ever moving surface. As far as we could tell, it went all the way to the high road that ran through the village of Bunratty. Those who had arrived on tour buses, didn't have to worry about getting wet. The big buses slowly cruised through the water, picked up their load then off they went.
Were we stuck there, trapped with so many others, by flooded river water? Not at all. Not when there was a young Canadian, one who had enjoyed many a goblet of wine, amongst them. Not that the wine made a difference, or was a factor in her next idea. Sweetpea was the adventurous type, and no shrinking violet. The flood impeding our way wasn't a problem, not when the solution rose right before us.
Part Three – A River Dance
Now, many would be stymied by a river suddenly appearing, where a road should be, but not my girlchild. When it became obvious that she was taking in our predicament, and coming up with a solution, I suppose I should have been just a titch concerned, yet wasn't. Maybe it was the wine and good times that made me extra brave, when she pointed towards the top of the castle wall and said, "Come on Mom, follow me".
Believe it or not, I did just that.
Up the wall she went, like some sort of monkey. Accepting the helping hand, she held out to me, I soon found myself atop the wall behind her. Well, we seemed to be committed to it as a solution, so away we went. Glancing back, as I followed sweetpea towards the high road, I had to giggle. There following along behind us, were so many others who clearly thought we'd come up with a solution to the wet problem. Like following a couple of far too giggly, Canadians was a good idea.
I have to say, traipsing along the top of a castle wall, gives one a fresh and unique view of things. It's easy to imagine, marauders scaling the walls, archers and the like, protecting the castle. Though now that I think about it, the huge gates were made of wood, and within one half, was a very small door, as if for children to pass through. I imagine, it would fall before a determined attack.
Arriving at the front of the castle, we hopped down, honestly, we really did. Oh to be able, to do such things now. Making our way towards the river, we were drawn to the sight of water, creeping higher and higher. We had seen the sandbags, piled before the side door of Durty Nellie's bar. From our prime spot on the bridge, we were awed by the power of the rising river. When we had arrived earlier that morning, we'd noted the boats sitting in the mud of a river, oddly devoid of water. Tethered to the ends of very long ropes, we wondered at how seemingly odd that was. Those same boats, were now straining against ropes, which had disappeared into the oil-black water. As if we hadn't had enough to drink, we ordered one from Durty Nellie's bar, then returned to the bridge. Though the men keeping an eye on the water threatening their sandbag dam, had stated that in four hundred years, the bar had never flooded from the daily occurrence, we weren't sure if this would be the night, or not. After all, the river was an inch below the window, on the river side. At any time, it could breach that barrier, and pour into the bar. At that very point where it surely seemed the river would win this time, it hovered a bit, then slowly but surely, began to drop. Everyone watching, let out a collective sigh of relief. Though we had no stake in the bar, or its wellbeing, no one wanted to see it damaged.
Watching the tide take the water out again, we were entranced by the intensity of the outward flow. For some strange reason, the flooded street and rising river, hadn't done anything to dampened evening's experience. Instead, it had enhanced it with a wonderful memory, and great story to tell.
Day one of Bunratty was behind us, the next stretched out ahead, with the promise of more fun. We intended on enjoying folk night in Bunratty Folk park, and learning more about Durty Nellie's bar, a stop for many a weary traveller and their horses, for hundreds of years.