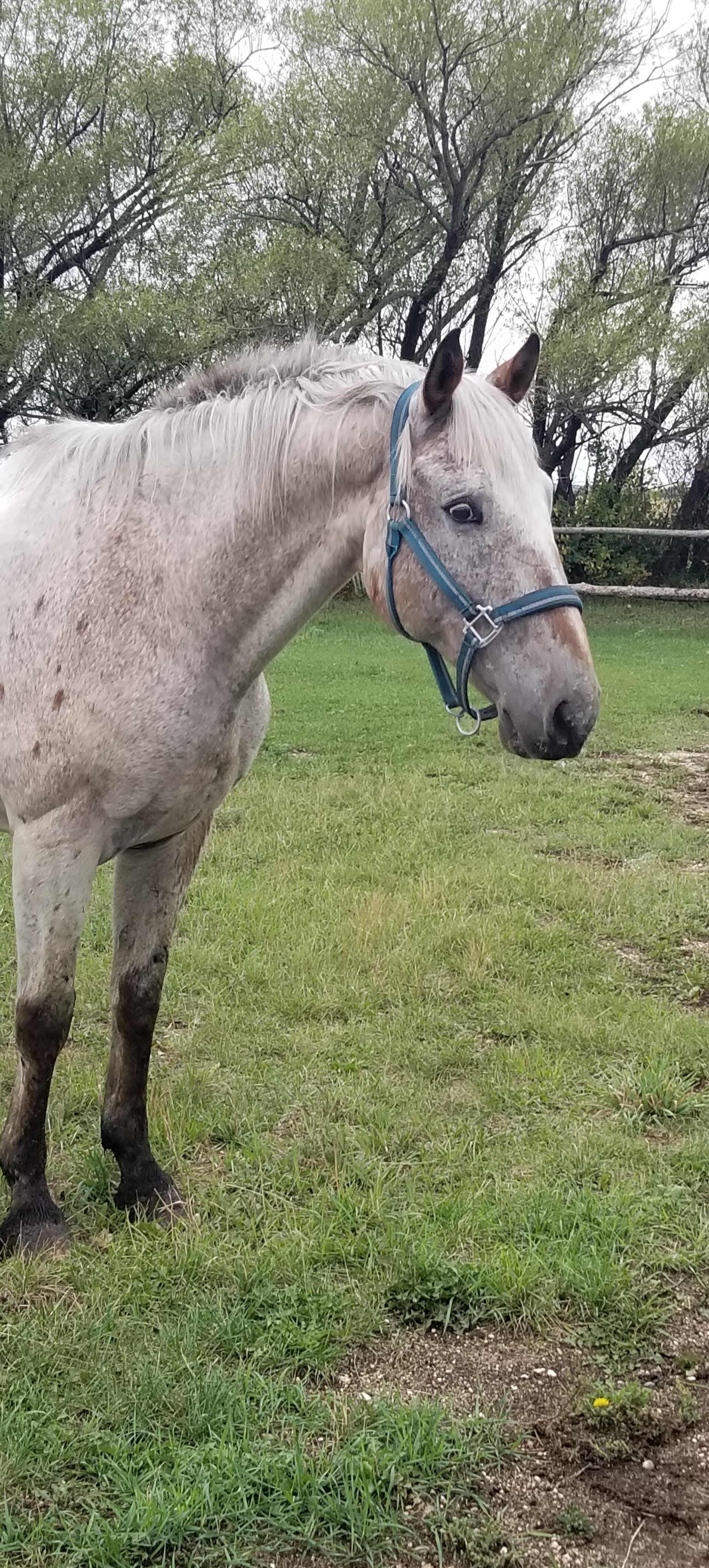 Impatient Jim
Fall often means rain. Not that it's worthy of complaint, as after such a dry summer, any precipitation is welcome. Unless it's the frozen kind. That fluffy, freezing cold white stuff, is not welcome, certainly not yet. Some rain fell over a few days, then some more, two inches to be precise. Add that to what we received two days before, and we're up to three or four inches. No more watering the tomatoes or young trees. No more worrying about the foundation of the house, and the pastures got a much needed drink.
Not everyone and everything is pleased with the rain, particularly Lucky Jim. He and Aurora, have been locked off the front pasture, for a few days now. We surely don't want big hooves, or little ones, tearing up the grass and turning it into a pigpen. Lucky Jim wanted out, and was rather vocal about it.
"Hey! Hey human! Open the gate," he neighed quite impatiently, while making obvious what he wanted.
"No Jim," I called to him, "no gate. Come, come have breakfast."
Clearly unimpressed, he nevertheless left the gate to make his way over to where, Aurora was already munching away. He seemed interested in the hay, at first anyway then suddenly left Aurora and breakfast, to go back to the gate. Once again, he demanded I open it with that imperious Appaloosa attitude.
'Forget it, Jim," I firmly stated, "you're not going out there. Now come. Come Jim, come eat."
He left the gate, to head my way again, muttering all sorts of bad things under his breath as he did so. I swear it's true. He obeyed, but unhappily. I even had to toss in another flake of hay, to reward him. Not that it helped. Glancing back, as I went about doing the rest of my chores, I was exasperated to see that darn horse, headed back to the gate again. I had to give that big, spotted blind fella credit. He was persistent.
Over lunch, I mentioned to hubby that I was going to move Jim and Aurora to the riding ring. It was the perfect solution to give Jim what he wanted, and give both horses grass instead of hay. Besides that, though our corrals are mud-free, several inches of rain still creates a mess. A mess of sloppiness that's about an inch or two deep, and is almost everywhere. The riding ring has no buildup of manure, and there's the whole benefit of grass, too. As we finished up, I told hubby that I might need a hand, just maybe. He headed back outside, to continue working on our old backhoe. I fetched halters, leads and a small bucket of senior feed then headed for Aurora and Jim.
Halfway to their pen, I realized that I hadn't changed. I was still wearing my favourite, don't do chores in, shorts. Well, at least I had put on old footwear instead of new. Ah well, I would be careful. After all, I was only moving a couple of horses. I wasn't mucking out a barn. In no time at all, I would have them happily grazing in the riding ring.
Deciding to move them without hubby's help, I took Aurora from the pen without any fuss or bother. Jim was busy 'gazing' at the gate, likely trying to will it to open, though he did immediately come over to check on what was going on. The pair of them, proceeded to call back and forth, deafening me in the process.
"You took the wrong one first," Hubby found it necessary, to put in his two cents worth. Not about to holler across to him, I was busy with a snorting, little Arab that was seriously trying to decide what to spook at first. She had so many choices, and was having trouble choosing. I on the other hand was focused on getting her through the gate.
The noise, emanating from Aurora, didn't lessen after I released her to enjoy the grass. She wanted her boyfriend, Jim.
"I'll be right back," I promised, "give it a minute eh?"
Being the snooty, little diva she was, Aurora chose to ignore me, and kept right on calling, just as loudly as she could. Hurrying to Jim, I didn't want to stress him longer than was necessary. To my surprise and pleased relief, he was patiently waiting at the gate to the aisle. Ears sharply pointed my way, I was sure, he was intently waiting for me to return.
Collecting his halter, lead, and the small pail of senior, I carefully edged my way into the pen. Ever mindful of where I placed my feet, I waited on the least sloppy spot, and beckoned the big horse over. Halter at the ready, I offered Jim a bit of feed then tried to slip it on. He wasn't all that evasive, yet I didn't want to step away from my 'good" patch of ground, and let him step back half a step. Reaching down for another handful of feed, I found my legs, my arms and my hands being snuffled as he searched for the feed. Just like that, I had smears of dirt, wherever he'd touched. Oh well. It was only dirt. Gross browness that was more liquid manure than dirt. It wouldn't kill me. That's what soap and water were for.
A minute later, I successfully haltered the nosy horse. Busily unchaining the gate while feeling rather pleased with my success, I was about to open the gate when it happened.
Jim lifted one of those big hooves of his, and dropped it onto the sloppy couple of inches. I was instantly covered with lovely, brown splotches.
"Oh no, Jim," I groaned, "you didn't."
As if in answer, he stamped again, covering whatever had been missed before, including my best shorts. I had lovely, brown brindled skin now, and no idea, if my shorts would ever come clean again. There was no point in fussing about staying clean by that point, so off we went, Jim and I. I have to say, it's pretty wonderful to have the horse that didn't trust us at all, casually walk beside me, no worries, no hesitation. Our blind, Lucky Jim was almost a whole, new horse. It's a wonderful thing indeed.