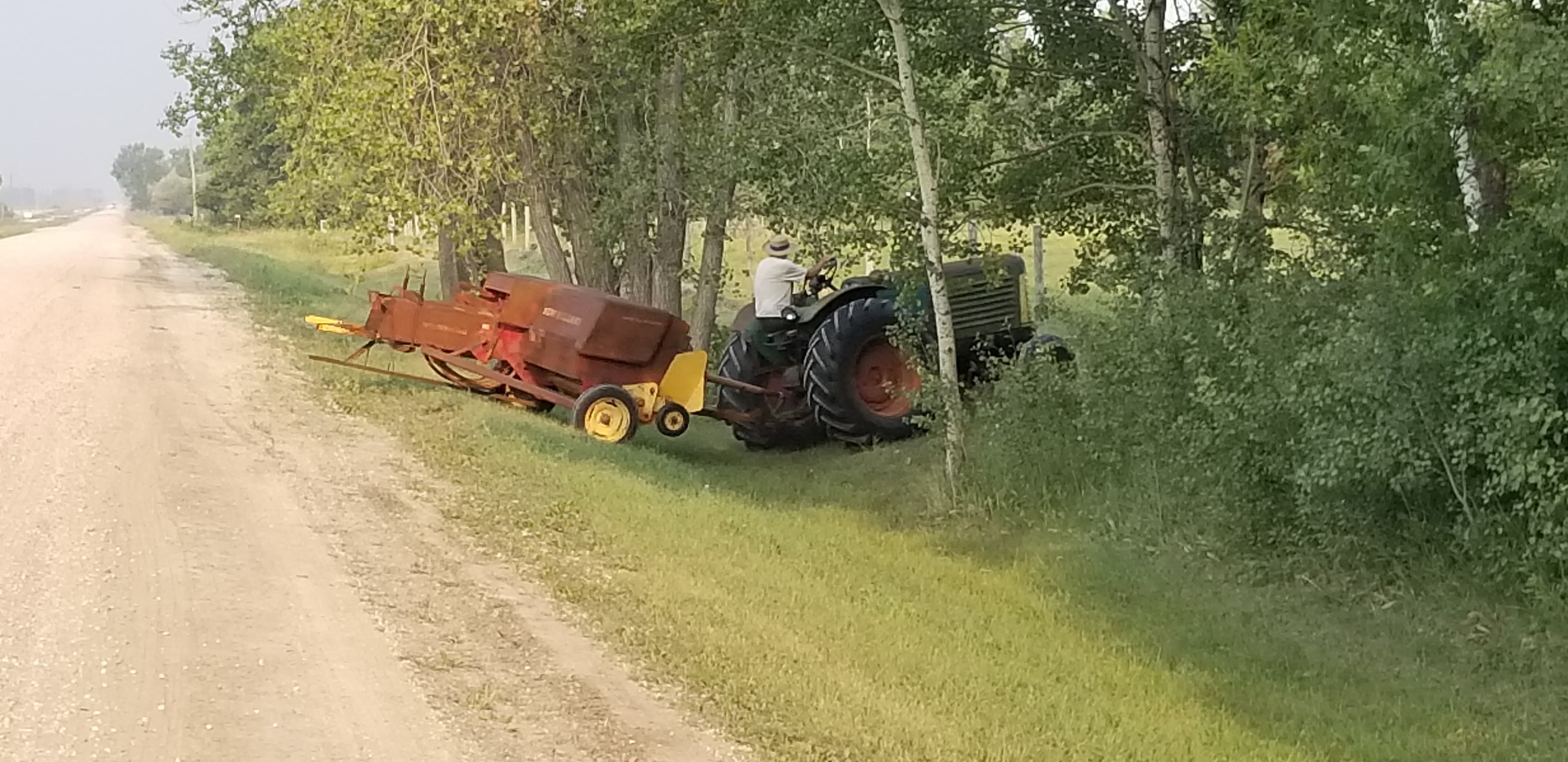 To Hay or Not to Hay
When hay prices soar due to shortages, it makes one contemplate getting out there to make some bales. Sure, the equipment has some age on it, just like the operators do, but everything that's supposed to work, pretty well does. Sure, everything takes a bit of coaxing, tweaking, cajoling, but the end result is making hay.
Vintage tractors cough, sputter and can do a good deal of complaining, yet they get the job done. An ancient sickle mower, handled the cutting. An old rake made perfect windrows of fresh, dry hay, and a baler almost as old as the rake was encouraged to bale it all up. The vintage tractors pulling the equipment, seem completely appropriate as well. From the mid fifties to mid sixties, they're a tad finicky at times, but get the job done. An Oliver tractor, pulls a baler from the seventies. The Allis-Chalmers, pulls a rake from the sixties, and the other Oliver tractor, pulls a sickle mower from the forties. Sure, there are some second looks from passers by, but the motley assortment of equipment, gets the job done.
Seeing the double takes and amused expressions, reminded me of a time I cut the front field, using a horsedrawn, sickle mower pulled by the industrial lawn tractor we still own.
Back in the early days of marriage and our farm, we didn't own much equipment of our own. We hired a farmer to cut our new hay field, then we baled it with an older, small square baler we'd purchased. After two great cuts, a section of field was growing incredibly well, and I figured I could get an unheard of, third cut. If only I had some means of cutting it. There was no way, we could afford to hire someone to cut a few acres. If it was going to be cut, we had to do so ourselves.
We did own that little, horse-drawn mower, and I figured, why not? The hubby modified the hitch so that it could be drawn by a tractor, and I was in business.
Round and round I went, pulling that little mower, behind our equally small tractor. I was about half done the six acre area, when old John, one of our farmer neighbours, parked on the road to watch. Even from where I sat, propelling our little tractor and mower through the alfalfa, I could see his ample bulk shaking. Old John was having a good chuckle. He must've sat there in his car a good hour, simply being amused by what I was doing. When he finally left with a huge smile and wave, I knew I'd made that old man's day. In fact, I may have made his whole year. I bet he had a good story to tell his cronies for ages.
We baled up the most beautiful, soft, leafy hay off that little patch of land that we've ever made. That field has been our front pasture, for many, many years now. The alfalfa is long gone, but the memory lasts to this day. Old John was one of those great, helpful neighbours, who are worth their weight in gold, and I was the one who gave him a chuckle that day.