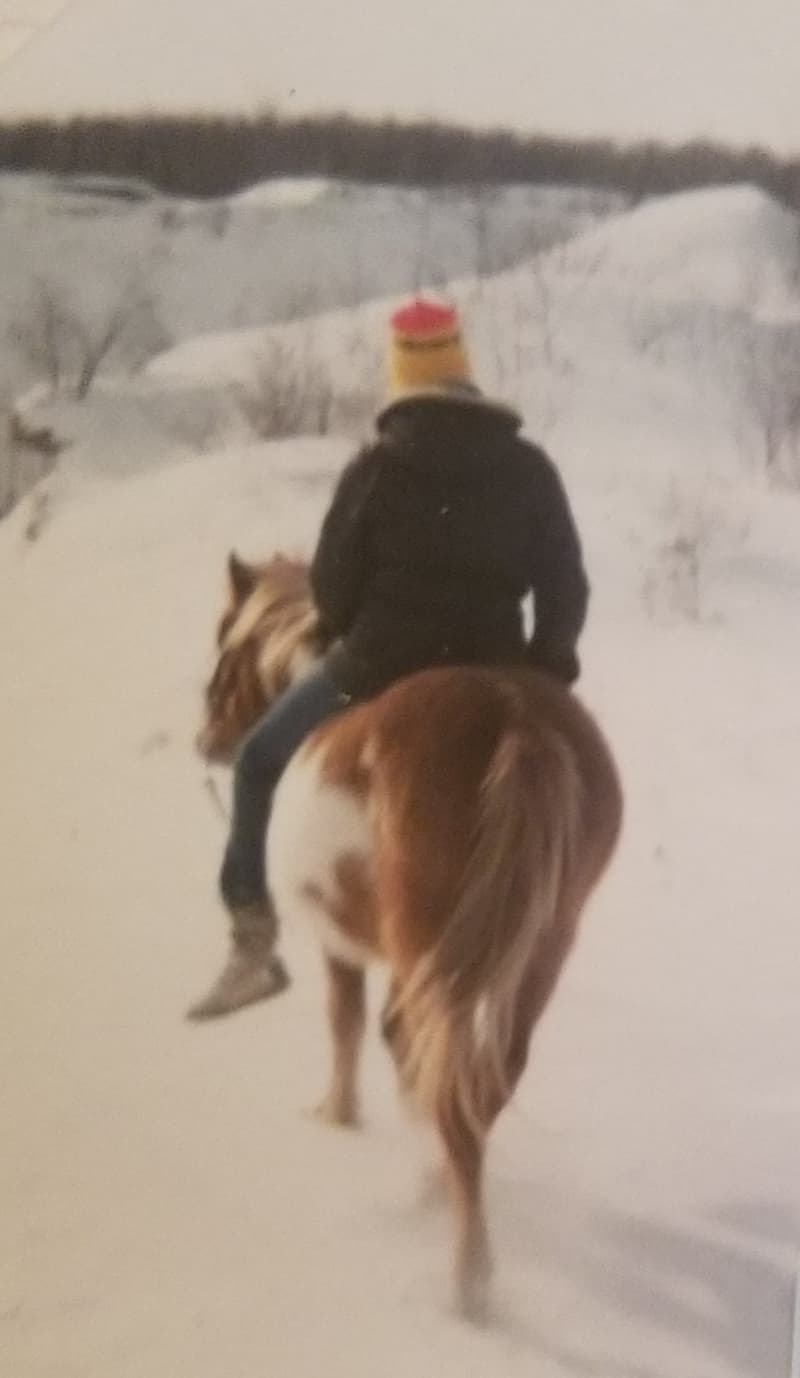 Grandma's Boy
How Grandma came to be a starved, unappreciated pony on a farm that shouldn't have had any animals at all was a complete puzzle to me. She was, without a doubt, the sweetest, most trustworthy pony one could ever hope to have. Through all the care and tending to her many health issues, she never once lay back her ears. She never lifted a hoof in anger or retribution, and she never tried to bite or evade us. She was simply a darling, little creature that we immediately became extremely attached to. How could we not? She was simply adorable.
As she gained weight and the shine came sparkling into her gentle, soft eyes, her secrets were slowly revealed. Grandma was trained to ride, had lovely manners and was extremely affectionate. On top of that, she proved herself to be trustworthy on the ground as well as upon her back. Old Grandma was a lovely sweetheart.
As smart as could be, she easily learned to pull a light stoneboat my father built for me, and in the winter, she was one of the horses I used to fetch hay from the neighbour's with. She was a pretty perfect pony.
Once upon a time, I had befriended a young, clearly horse crazy, boy. I was out riding, and passed by this young boy. The look in his eyes was one, I knew very well. He wished more than anything that he had a horse. I rode on a bit then turned back. Riding up to him, I smiled and asked where he was going. Surprisingly, yet not really, he told me that he was walking home from a riding lesson. It was a good mile from the stables to his home, so I offered him a ride. As much as it was obvious that he very much wanted to, he politely declined. It made sense. After all, I could be some sort of homicidal maniac. His parents had likely warned him, to never accept rides from strangers. Still, as I rode on, I knew darn well that it had pretty nearly killed the kid, to turn down a horse ride. I couldn't help myself. I went back and asked again. This time, he only hesitated about half a minute. I held out a helping hand for him to grasp, my foot for him to step onto, then easily swung him onto my mare's rump. I took him as far as his yard, dropped him off, and went on my merry way.
It was no surprise that he seemed to be out walking, whenever I happened to be riding by after that day, and each time, I gave him a ride home. It wasn't long, before Del was visiting the farm where I kept my horses, and right after that, he became a pretty well permanent fixture, around the place. Del was about as crazy about horses, as I'd ever been, and I completely understood the fascination. That day I offered an eleven year old kid a ride home, I'd met someone who is still a friend to this day.
His birthday was coming up, and that kid loved old Grandma. I went to his parents, and after a great deal of persuasion along with assurances that the pony would stay with me, they relented. It was almost as hard to convince them that their kid deserved a horse, as it has been to convince my own parents, to allow me to buy my Thow-ra.
I remember the expression on Del's face, when I gave him Grandma. He was beyond happy. I knew he wouldn't fit her for very long, but while he did, he had an awesome pony that would take care of him, even while he took care of her. A pony that had been at death's door, went on to have many more, healthy active years. If she'd been lost, so many children wouldn't have known the pleasure of riding her. My friend Del wouldn't have had her to love, and that would've been a great loss indeed. He was truly Grandma's boy.
I have to smile, when I think about how easy it was to pluck that little kid off the ground, and swing him onto the horse behind me. He grew into a tall man of six foot four.