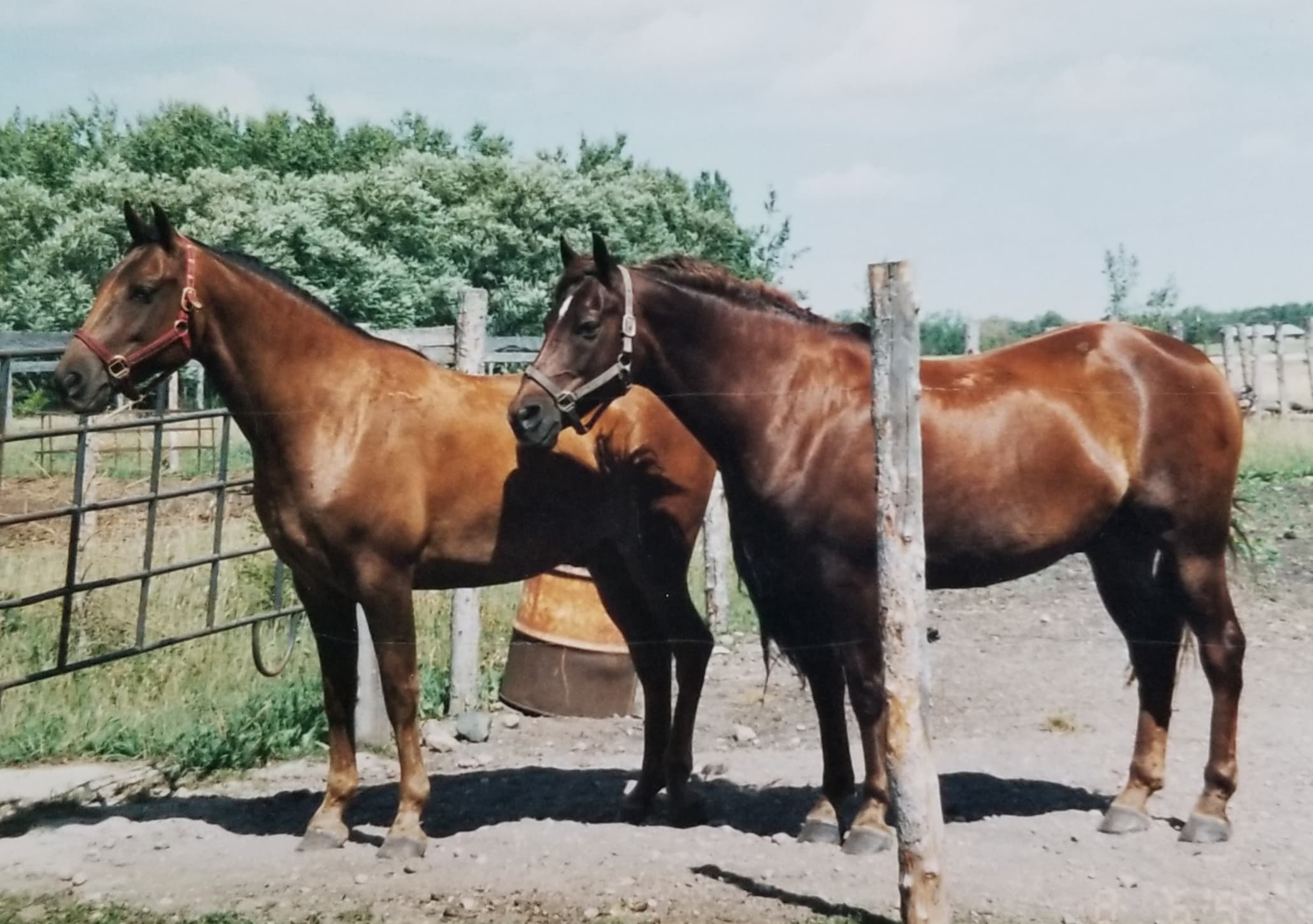 The Trouble with Tyler
It was my strict policy, or somewhat strict policy, to not keep geldings. Geldings don't make sense on a breeding farm. They take up pasture space that a productive mare or stallion, could be using. That corral, that pasture, the time spent, could be better spent, working with one of the horses that helped pay the bills. I was determined to keep geldings out of the picture, except for Higgins, of course. He didn't fall into that envelope. Higgins was hubby's first horse. He was special and would live out his days with us. And Chico, the grade gelding that had come along, when we bought another gelding back. Oops, so that's three, and the heavy horses didn't factor into that, as they were hubby's horses, so only five. Still, despite the few geldings that did make their home here, geldings on a breeding farm, really didn't make sense. What did make sense though, was not to pass on wonderful opportunities, like when a gelding came along at a very reasonable price. Geldings like that, if they had the right temperament, had the right kind of time and training put on them then were sold on, were money makers. Someone who could benefit from a great, trustworthy and fun horse would get one, and we'd have a little money coming in. As far as I was concerned, those points made taking on a project, a worthwhile endeavour.
Lower priced horses, are often lower priced for a reason. They have some issue that someone can't deal with, so they're moved along to be someone else's problem. Thing is, I seem to be a tad attracted to problems. Ninety-nine percent of the time, problems can be fixed. All it takes is a bit of time, understanding and the right kind of handling and work. Horses with fixable issues, usually translated into a boost in finances, at least eventually.
Tyler was one of those horses.
When looking at Morgan mares, I came across Tyler. He was a big, well-built Morgan gelding, and his price was right. He was a bit of a puzzle. I couldn't fathom what his issue was, or why he'd be so incredibly, well … cheap. He was extremely friendly, darn pretty, a really nice size, and did I mention,  as pretty as a picture?  Yes, I would take him. I mean, why wouldn't I? Sure, he was four with no training, but that wasn't a problem, as far as I was concerned.
He loaded into the trailer without a problem. Of course he did. The mare was in the trailer. He was eager to stay with her. It was when we got home that I almost immediately figured out, Tyler's trouble. The world quite simply terrified him. Security came in the form of fences. Life behind a fence was safe, familiar, comfortable. Life on the other side was a great unknown, and he wanted no part of it. If taken out of the safe zone of his pen, he lost his little mind. He figured all his great size was safer behind me, or better yet, on top of me. Whenever I was working with him those first couple of weeks, I was constantly doing the dance. The 'don't you put those big feet of yours on mine' dance, and I wasn't as good at avoiding the inevitable, as I struggled to be. That big horse was surprisingly quick, and his hoof to foot aim, uncannily accurate.
The way to get a horse over fear is to expose it to more of what frightens it. To that end, we hit the road together. That horse and I explored every scary inch of our yard then expanded his horizons. We ventured out into ditches and roads, more ditches than roads, as a matter of fact, because that's where he'd drag me, when something scared him. Did I mention, all of these miles were on foot? I'd been busy training him as well, and within a few weeks had progressed very well, but there was no point in riding out before he had his confidence. Being possibly maimed or killed, because I'd been too impatient to do things properly wasn't something I did. Sure, a horse could be trained to ride in a few days, but nothing it knew would be a habit. Nothing would be comfortable or something a horse could fall back on, especially when life got intimidating. A horse trained in a rush, is a horse without the confidence, familiarity brings.
From walking by hand, I moved to ponying Tyler all over the world as he would learn to know it. After he had his daily lesson inside the round pen, we would head out. I wouldn't unsaddle, as saddles were a part of Tyler's working life, and off we'd go. The added benefit was that I was getting two horses worked at a time, Tyler and the pony horse, too!
When Tyler appeared somewhat comfortable with life out of the corral, I began to ride him all over the yard, then further and futher, until we really began to put the miles on. All the time, patience and effort paid off. Tyler became the perfect trail riding horse, I knew he would be. All his earlier terrors disappeared, as if they'd never existed.
If he'd been a barn soured horse, wanting to get back to his buddies and unwilling to leave the arena, ring or yard because of that, I would've started off walking out right off the bat. Over a bit of time, when the soured or frightened, broke horse learned to trust and relax, I would walk the horse a mile or two, and when it quit fussing and trying to turn back, I would climb aboard and ride on. There are different fixes for different issues, but I never punish fear, and don't want to create it. As it turned out, the trouble with Tyler, wasn't that much trouble at all.