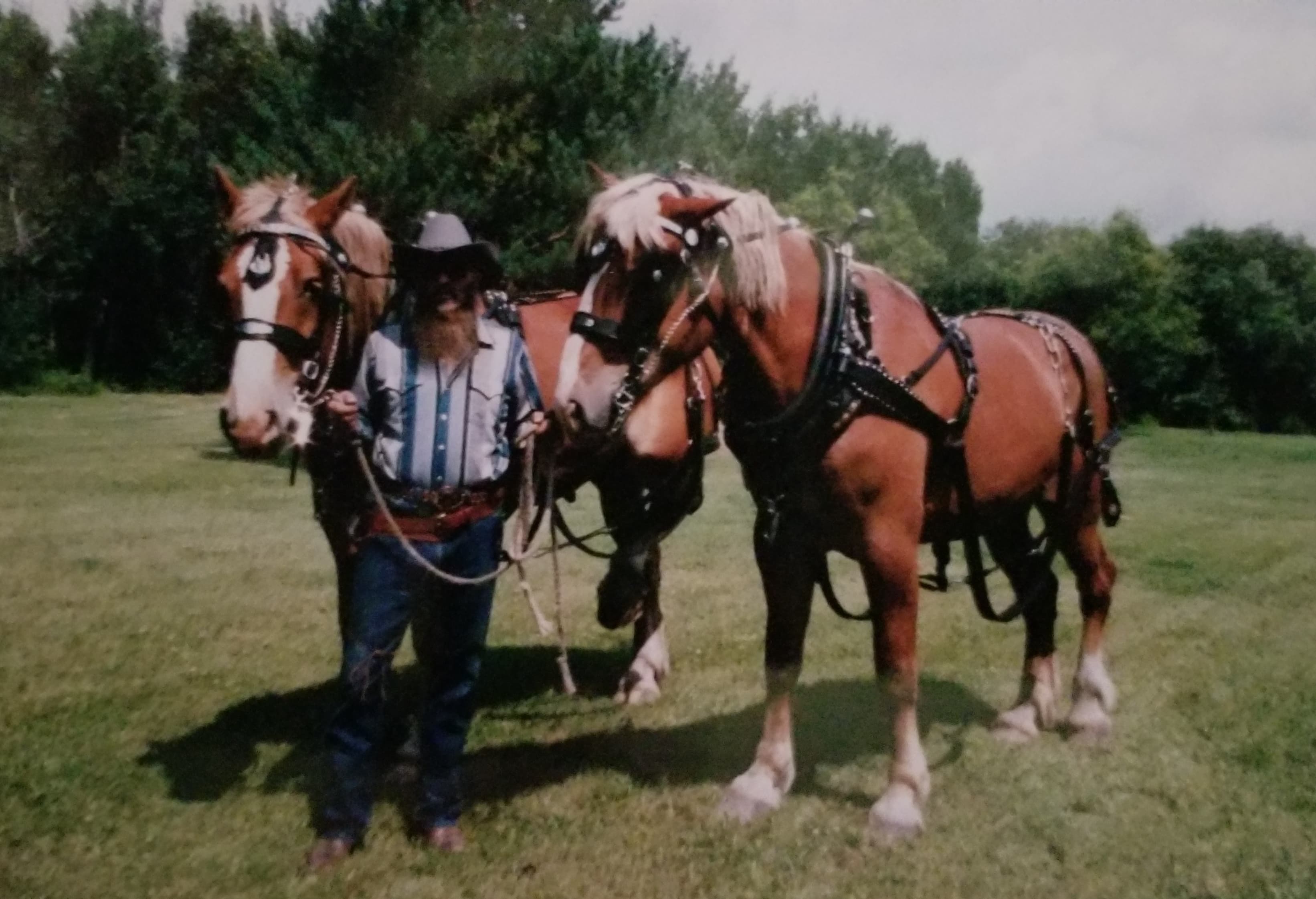 The problem with Kelly
As impressive as Kelly was, no matter how beautiful, it was clearly obvious that he wouldn't work with our family. After much discussion, hubby called up Ernie, the horseman he'd purchased the Belgians from, and Ernie offered to trade Kelly for a different horse. As hubby still was very keen on owning a team, he immediately agreed. Ernie would deliver the new gelding when he picked up Kelly.
Now, Ernie was every bit as taken aback by Kelly's inexplicable behaviour as we were. He'd worked him in the field alongside other horses, without issues, and no problems had shown up when hubby went out to learn about working with his new team. Ernie had purchased Kelly in Thunder Bay, Ontario in his neverending quest to put together the perfectly matched, six-horse hitch. After hearing what had happened, not only did he exchange Kelly for a different gelding, but he did some sleuthing into Kelly's history. As it turned out, poor Kelly had good reason for what had appeared to be unwarranted behaviour. He'd been involved in a dramatically terrifying wagon wreck that completely explained his bolting behaviour, poor boy.
Kelly had been owned by a stable that took out wagon rides in the summer, and sleigh rides in the winter. One would think they would know better than to cover the wagon with huge sheets of plastic, yet this was exactly what they had done. The wind had come up, tore loose a big section of plastic, and the race was on.
Being prey animals, horses have a fright and flight sense of self-preservation, born into them. A good deal of this response can be trained out of them with proper desensitization, but that takes an extensive amount of patience and time. Too many people, are too impatient to put the effort in, and just as many don't think ahead and contemplate the possible consequences of their choices. I don't know if anyone realized how incredibly risky it would be to cover any conveyance pulled by horses with plastic, but they should have. On that fateful day, the plastic flapped in the wind after tearing loose, and the horses bolted in response. The resulting runaway and wreck had traumatized the team of horses, one of which was Kelly. Both horses had then been sold at a horse sale, their recent past undisclosed to potential buyers. I don't know who ended up with the other half of the team, but Kelly was lucky. Ernie took him back and made sure that the next owner didn't do anything but work him in the field, or in harness in a bigger hitch of well-seasoned horses, and worked with Kelly after getting him back.
Ernie had Tim, a giant of a Belgian gelding that was immovable, no matter how crazy his partner behaved. He was used to train young horses, and reassure ones like Kelly. Tim didn't tolerate bad behaviour of any kind, and wasn't above giving a teammate a good nip to discipline. Kelly left us, but wasn't shipped. Ernie worked him alongside Big Tim, then found him the right home.
Kelly's replacement? Well, my husband came to own his next Higgins. Way bigger, completely different, yet the same. The new gelding oozed personality. He was sweet, gentle, incredibly quiet and loved anything small, kids, foals and our pony Chauncey, too. There couldn't have been a better horse to join our family than Tom, hubby's new Belgian.
Tom had no vices. He didn't pick up his feet, but that simply took training. He and Pat buddied up without a hitch, and were partners when hitched. Surprisingly, Pat carried no ill effects whatsoever, from his bad experience. The superficial cuts and wounds healed without a scar, and he never acted spooky or threatened to bolt. He truly proved that he had a sensible mind.
It didn't take very long for hubby to want more than just a driving team. He wanted a riding horse as well. It took a little bit of time and effort, yet Tom was easily taught to accept the saddle and the idea that there was going to be a person on his back. It had to be a bit strange for him at first, as the blinkers on his driving bridle had always blocked the view from behind, but he liked people, so accepted this new silly nonsense, the humans were up to. So began his new life as a part time driving horse, and part time riding horse. Hubby trail rode the big horse, took him in a few parades, where the great beast would suddenly remember his show days and turn into a high-stepper. Ridden with western tack, he had a soft mouth and even learned to neck rein.
There was much about him that reminded us of Higgins. They were both sweet, amusing characters that did silly things to get attention, yet were big thinkers and could put themselves into a predicament for attention then get out of said predicament if no attention was forthcoming. All in all, he was the perfect horse for hubby, and the family, too. He was amusing, a tad naughty, and completely endearing. He was another, pretty well, perfect horse.