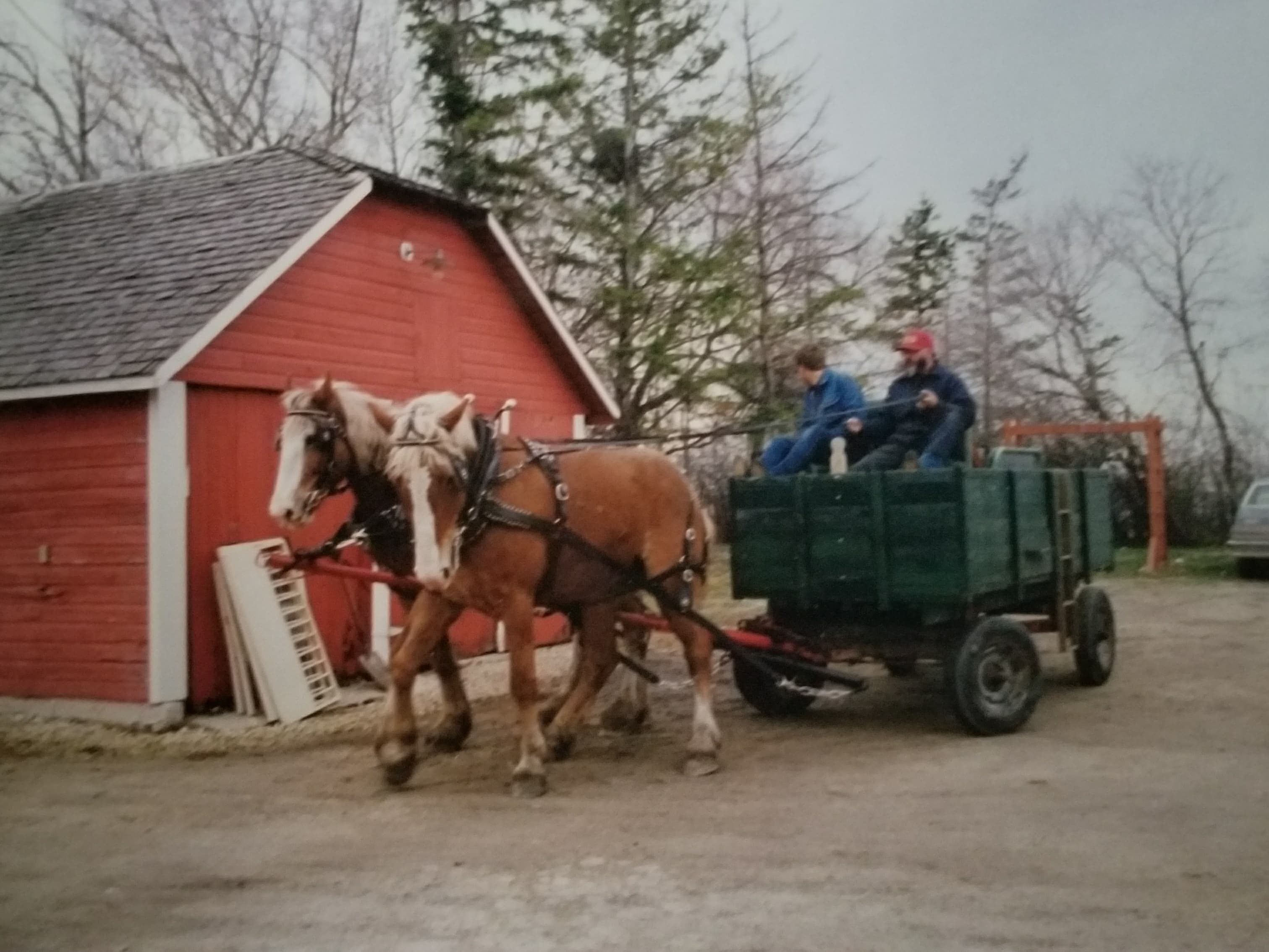 Sunday Drive
The weekend after their hooves were trimmed, I deemed Pat and Kelly ready to go, much to hubby's impatient delight. He'd been spending time with them, seeing what fit and what didn't, learned that he had to buy new collars, as the ones he had were big, yet not nearly big enough. As it was, the harness he had purchased fit, but just barely. Hubby simply loved harnessing, adjusting, shining and polishing.
I dreaded the daily fittings. As it turned out, heavy show/work harness was incredibly heavy, and felt even more so, when you had to lift it onto horses that were better than eighteen hands high. It was a darn good thing that Pat and Kelly simply stood there, because there was a good deal of grunting, groaning and complaining, from me. I realized then, that I really didn't like harnessing giant horses. It was a lot of work.
That Sunday, we harnessed those two behemoths, hitched them to the antique grain wagon, hubby had adapted for regular outings, loaded up the kids and went for a leisurely drive. It was absolutely leisurely, relaxing, and admittedly enjoyable. The kids took turns riding up front beside their dad, on the old, school bus seat. We chatted to folk we saw along the way, some we knew, some we didn't. We stopped by the wonderful, old-style, country store that used to be in the tiny hamlet of Cooks Creek, for cold treats, and stopped to visit friends. By the time we returned home, we had travelled some ten miles! It was a perfect way to spend family time, on a sunny, warm day.
The following weekend, I had a driving clinic that I wanted to take my Morgan stallion, Jim's Andy to. I'd never been to a clinic of any kind, and thought it might be fun. For all I knew, there was even a possibility that I could learn something new. The little humans were going to hang out with their pops, and I was going to experience something new. It was nice to not have to worry about the kids, and for their dad to care for them. I was sure they could find all sorts of nonsense to get into, and have fun while they were at it.
I returned home late that afternoon after learning the clinician disapproved of men wearing sweat pants, horses with conformation flaws, and all sorts of nonsensical opinions that didn't have a place or use in the clinic. Especially one where people were looking for driving tips, not etiquette. Still, it had been an enjoyable change from the norm, and I had the chance to chat with like-minded individuals. I unloaded Andy from the trailer, all the while, my little boy peddled his tiny bicycle around, and appeared to have a secret.
"Hey sweetie," I smiled at the little tyke. He truly looked about to burst, " where's your baby sister?"
"Dad took her to Oma and Opa's," he said, as if telling a huge secret.
"Oh?" Glancing at the little guy busily peddling his tiny bike as I led Andy to the barn, I wanted to know more, and wondered why my young child was apparently outside by himself. "Why did he do that?"
"Big trouble," he answered, with a serious, slow shake of his head, "big trouble mom, big trouble."
By now, I was turning into the barn. There were giant horse turds behind two of the tie-stalls. Clear evidence that horses that didn't fit, had been in them. Walking Andy into a stall, I studied my little boy's face as I carefully, ever so calmly asked, "Did dad have the big boys out?"
"Big trouble," he nodded, his little boy voice, full of something akin to wonder, "cars, ditches, trees … big trouble mom."
"Where's dad, sweetie?" Doing my best to control my reactions, I smiled calmly, "Is he okay?"
"He's sleeping in the house," he shrugged like it was no big deal, for his father to lie down at this odd time of the day, "on the couch. He said he needed to rest. Big trouble mom, really big trouble."
Heading for the house, I beckoned for my tiny guy to come with, something he wasn't all that keen on.
"I want to stay outside, okay?" He gave me the sweetest smile, "I want to ride my bike."
Unsure of what I would find inside, I suddenly decided that maybe it was a good idea for our little tyke to stay outside like he wanted, "Okay sweetie, but stay right here by the house, nowhere else, promise?"
"Yes mom," he immediately grinned and agreed, because of course, he wanted to stay outside. It was still a beautiful day. He didn't want to be stuck in the house.
"Okay, I'm going to be back outside in a minute."
Leaving my little boy to happily ride his bike, I went inside. Entering the house, I was taken with by how quiet the house was. Going through into the livingroom, I found hubby where the little boychild had said he would be, stretched out on the sofa, an arm over his eyes.
"Um," I quietly let him know I was there, "did you have the team out? Did you have trouble? Are you okay?"
"I just need to rest a while," he answered, ignoring my other questions.
"Are the horses okay?" Unable to let it go, I wanted, needed to know more.
"I think so," he quietly said then added, "but maybe check them over. I need to just lie here for a while longer, that's all."
Despite my deep need to know more, I let it go, for now. Leaving him to rest or zone out, whichever he was doing, I went back out to check the heavy boys, and deal with Andy as well. He'd had a long day. He needed a good brush out then turning out onto a pasture.
The whole time I worked on Andy, I was trying to glean more information from my little boy. The problem was, he couldn't seem to get more out than what he'd already said. There had been big trouble. At least one car was involved, and somehow, some way, a fox had come into the picture. My curiosity would have to wait.
"Let's go put Andy away," I suggested with a smile, "park your bike?"
"No," shaking his little head, he grinned back, "I like to ride my bike."
"I know you do," I chuckled at the pleased smile of pride on his cherubic face. He'd only mastered riding this new two-wheeler, and riding it was all he thought about. I led Andy, while my little guy pedalled alongside. It was a wonderful thing to have horses used to all sorts of things, and we never restricted the kids from playing and riding their toys around the corrals. As long as they kept out of the pens, it was a good thing. As soon as Andy was sorted, I went to look over the big boys.
Kelly was extremely nervous, wild-eyed and on edge, but other than that, appeared completely unscathed.
Pat appeared exhausted and spent, and had a few superficial cuts and gashes. As my little munchkin and I went to get salve, I tried again, "How did Pat get hurt like that, sweetie? Do you know?"
"The trees, mom," he answered as if I was silly for asking, "they did it. Do you know, mom, there was a fox? I gave it food. It was cute."
"A fox, really?"
"Yup," he cheerfully pedalled around, "a cute one."
I simply had to know more. Clearly, something big had happened. Determined to find out what, I dealt with Pat's injuries then headed for the house. Resting or not, it was time for hubby to tell the story.