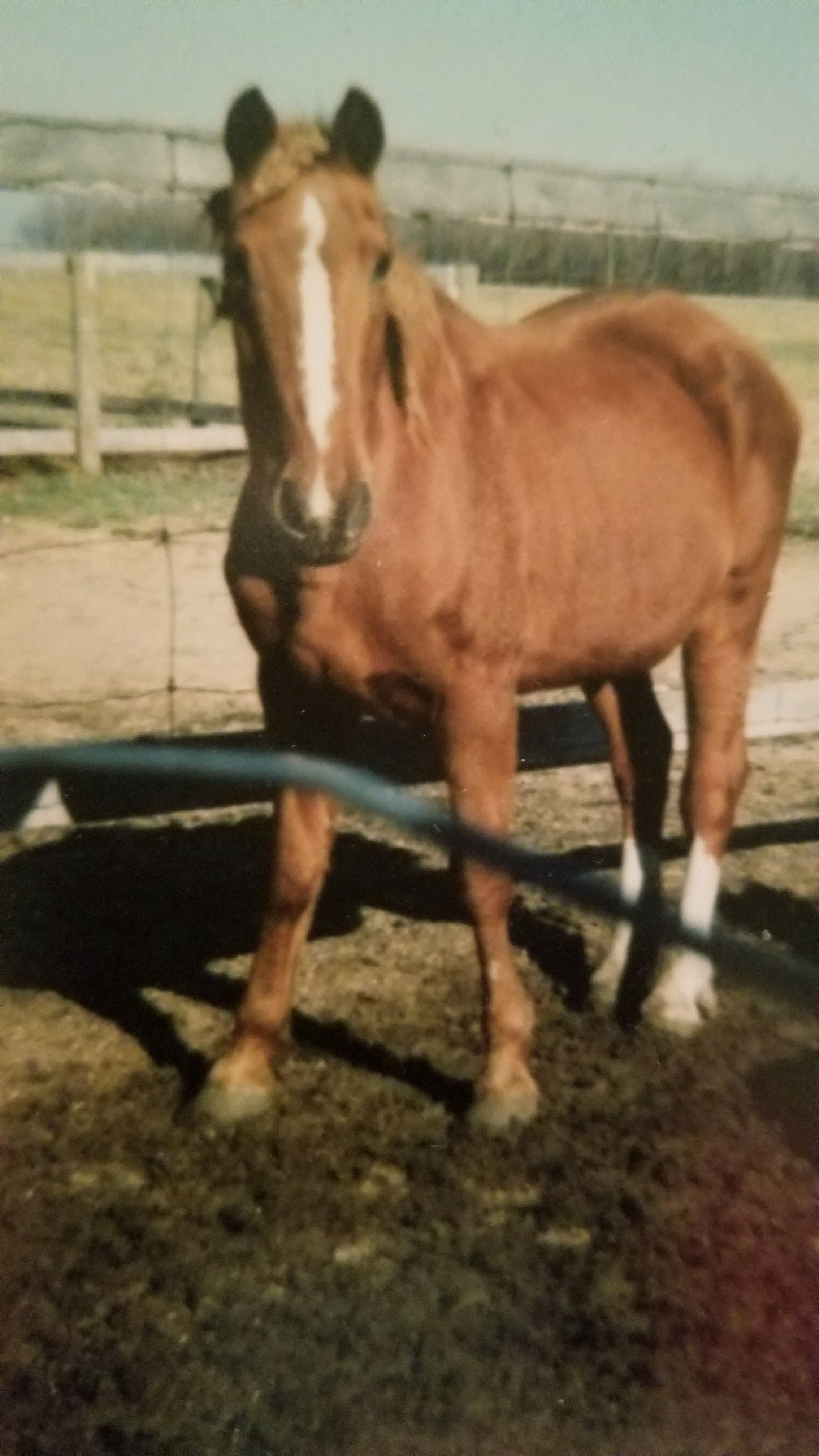 Getting Thow-ra
I had finally chosen my first horse, despite the cautions of all the onlookers. Even the owner slash horsetrader, felt the need to say something.
"You know, Trudy, I would say she's a very old horse. She's a Standardbred that raced a few years, and she was a lessons horse for years, too. They told me that she'd been in a wreck as well, and can't be hitched to anything. You can't drag things either. If you want to change your mind, you can. How about this little mare instead?"
He showed me a pretty mare, with a leggy filly at her side.
"You can have both of these instead, if you'd like."
"No thank you," I insisted, with every bit of the stubbornness that's a huge part of my character. "I want the chestnut. "
I didn't miss the looks the adults exchanged, but it didn't matter. I knew what I wanted, Thow-ra.
As it was Sunday afternoon, I had to wait a whole week, before she would be delivered. I couldn't focus at school, I dreamt of my new horse at night, and I could hardly wait. By the time Saturday came, I was so anxious with anticipation that I began to pace up and down my driveway. Where were they? When my mother called for me to come to the house, I had a sinking feeling. That feeling increased and was realized, at the expression on her face.
"She's not coming, is she?" I asked, though I could tell that was exactly what, she was going to tell me. "Why mom? What's the problem? She wouldn't load? He changed his mind? He can't change his mind. I already paid him."
Her answer both relieved and disappointed me. The truck had broken down. No horse, until it was repaired. I had been so close to having Thow-ra in my possession, and now, I suddenly had no idea when she'd be delivered.
Sunday came and went. The next day was my 15th birthday. I recieved brushes, a lead, and a draft-sized, leather halter! Apparently, my city boy father had gone to the store section of the huge feedmill, he was a millright at, and told his buddy that I had bought a horse. A really, really big horse, and I needed something for it's head. Something proper, so I would be able to lead it. I didn't have the heart to tell him that such a halter would never fit my 14.2 hh mare, Standardbred long head, or not.
Right then, I heard a whinny. Now, the home I grew up in was tucked onto 3 acres in the corner of a big horse pasture, yet somehow, I just knew that faraway neigh wasn't from any of those horses.
Forget about cake and ice cream! I was getting my horse! Tearing out of the house, I ran up the drive to the road, then held my breath and listened. I heard it again. The neighs definitely weren't coming from the horses in the fields behind me. That wonderfully amazing sound was coming from somewhere to the northeast. A minute later, a truck appeared. A red, horse head, visible above the high sides, as she bellowed out her request for an equine response.
The truck was driven into the shallow ditch in front of our home, the back door was opened, and there she was. My shiny red, cave painting, and I thought she was about as amazing as a horse could be. Funnily enough, that mare with the foal at her side, was also in the truck. I was being given one, last chance to change my mind. Of course I didn't. Thow-ra hopped of that big truck as gracefully as a deer, that huge draft halter was somehow fitted to her head, the new lead fashioned into reins, and I was up. I rode away with a huge smile on my face, and a sense of exhilaration I never seemed to lose. I never gave a second thought to everyone I left behind, of the fact that I hadn't paid my ten dollar delivery, or how I would get home again. I was taking her to her new home. After all the years of hoping, of wishing, of begging and saving, I owned a horse, and that was all that mattered.
That giant, draft horse halter, well, I still have it.